Oct 30, 2019 Music
S Club 7 are rumoured to be reuniting next year for a 20th-anniversary tour. Former teenybopper Eli Orsezzek remembers the heyday of 90s pop in Auckland, meeting Christina Aguilera, and having breakfast with S Club at the height of their fame.
?The late 90s were a golden age for meeting pop stars in Auckland. Practically every month an act with a single or two out was making an appearance at a Sounds music store somewhere in the city, or on the rare occasion, performing a free concert.
This era kicked off in 1997, when Aqua performed at Aotea Square. Judging by the crowd, I'd say every old millennial in Auckland was likely there. I can still remember the line snaking up Queen St from Sounds when they had their autograph session. It was the first proper celebrity autograph I ever received – and also the first CD I ever bought, before my family owned a CD player.
After seeing Aqua, I met Westlife and attempted to meet B*Witched, but the session at Sounds St Lukes had to be cancelled after the mall became dangerously crowded with teenyboppers.
The most famous person I met during this time was Christina Aguilera. It was 1999, "Genie in a Bottle" had just been released and I wagged school with a group of my friends to meet her at Sounds Queen St. The line was long and slow and things got heated. I got into a fight with a woman in front of me who accused me of trying to push in front of her. "Well I'm actually getting this autograph for my friend who's got CANCER, so shame on you!" I lied aggressively.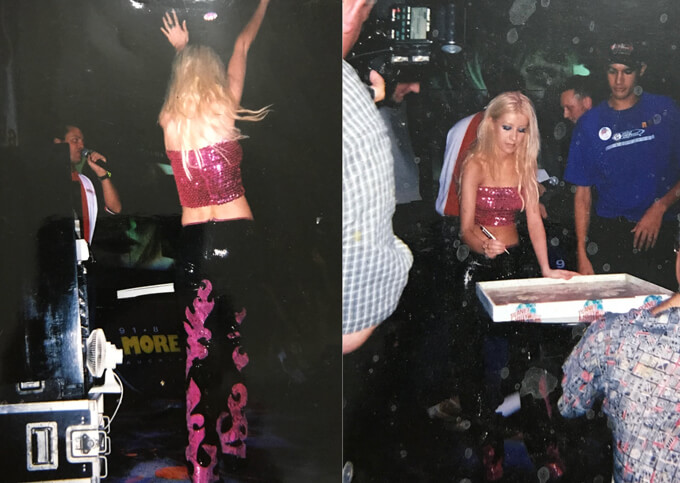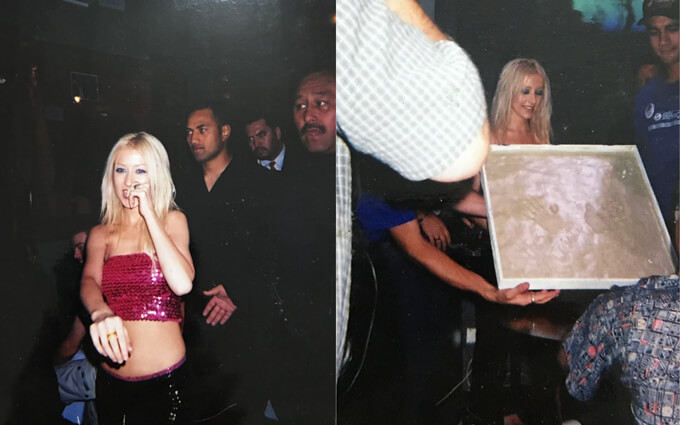 My head was spinning as I began to get closer to the front of the line – what could I say to impress her? In the end, I handed over my CD single and blurted out: "Hey congratulations on the Grammy!" To which she replied dramatically, "Ohhhh thank you SO MUCH!"
We got a tip-off that Christina would be appearing at Planet Hollywood (now Metrolanes) in the IMAX complex later, so we turned up to see her again. She didn't sing or anything, just pranced around on stage thanking us for her support in a rather incredible hot pink sequin get up. She was probably the tiniest person I'd ever seen in real life – shorter than me, and I'm pretty damn short. When her security guard escorted her through the crowd, his big hand took up her entire waist.
It was an exciting time, but also a very horny and awkward time for a teenager very confused about their gender and sexuality at a single-sex Catholic school. Later in my teens, I discovered punk through a boarding school classmate who listened to the Ramones a lot and my love for Top 40 pop became a shameful secret. Shortly before that happened, I had breakfast with S Club 7.
When S Club 7 debuted, I felt like I was way too old to be enjoying their music – but one girl at school liked them too and it just so happened that I'd had a crush on her since she walked into the classroom in form two. When she won a More FM contest to have breakfast with the group ahead of their free concert at the Viaduct, she invited me along – and to be honest, the prospect of spending the morning with her was even more exciting than meeting S Club 7.
We arrived at the station and were greeted by one of the hosts, who showed us around and made an inappropriate comment about how they could see people jumping off Grafton Bridge from the office sometimes. Along with the other contest winners, we were seated around a breakfast table – but S Club 7 was nowhere to be seen. We ate our breakfast, then stood up and Rachel, Hannah, Bradley, Jon, Jo, Paul and Tina entered the room. They smelled strongly of ciggie smoke and we flitted around the table and got our CDs signed while they ate.
In general, they didn't seem that excited to meet us, but there was one exception: Rachel Stevens. When she hugged me, it felt genuine. Later when the group was on the air, she turned around in the studio, looked right at me and waved. I felt like we made a real connection.
Months later, it was revealed that it was in fact my friend who had made a real connection – apparently her and Paul had exchanged email addresses and had been in touch. At the time, I didn't really believe her, as I hadn't really remembered there being an opportunity for this to happen. Now I'm inclined to believe her – Paul, if you really did correspond with my 15-year-old friend and you're reading this now, that's a bit creepy mate.
Looking back, the late 90s was definitely the most repressive period of my life, and pop music offered an escape. Lying in bed at night in boarding school, I'd fantasise about doing a high school exchange to the USA where I'd miraculously be placed with Britney Spears' family. Sure the fashion was terrible and music probably was too, but let's be real – being a teenybopper was probably the most fun you could have.