Oct 12, 2016 Music
Dance music gets an experiential twitch on Powell's hot debut.
It all started with an angry rant by legendary rock producer Steve Albini.
The story goes like this: hot dance-music producer Powell emails Albini to ask for permission to use a vocal sample from one of his old records. In a series of replies, the former Big Black guitarist unleashes a torrent of criticism that Powell cleverly builds into the hilarious video for the song, "Insomniac".
Albini's withering criticisms of dance music are then memorialised on billboards advertising the Powell track. Apparently there was no personal enmity between the two, but Albini's views represent the schism — and adversarial attitude — that still exists between a certain old-school rock music perspective and the groove fraternity.
"I detest club culture as much as I detest anything on Earth," wrote Albini. "I've always detested mechanised dance music, its stupid simplicity, the clubs where it was played, the people who went to those clubs, the drugs they took, the shit they liked to talk about, the clothes they wore…"
Albini refused to listen to any of Powell's music, but ironically, his debut album, Sport, is like a manifesto for a certain punk spirit running through dance-oriented music production, and I wouldn't be surprised if Albini saw in Powell a kindred spirit, if he was willing to back down and soak it up.
After all, Sport is everything that we once admired in rock and roll: it's not in thrall to its forbears, it's smart, wry, sharp and it makes you want to wiggle. But it's also disruptive and subversive in equal measure, a cheeky palliative to both the stereotypical club-culture paradigm and the dreary, catholic tropes of contemporary rock.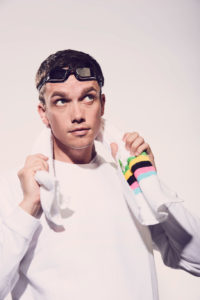 It's a musical conversation about a conversation about music that goes right back to the pointless "disco sucks" movement of the late 1970s, when radio jocks pitted the supposedly superficial dance-music phenomenon against rock music's so-called authenticity. The same bogus argument played out during the dance music resurgence of the 1990s, when grey-faced guitar janglers grumpily pursued their agenda against the robot rhythms of dance.
What they didn't get, however, was dance music's capacity to evolve — and its evolution became jet-propelled and hyper-global as broadband speeds increased — while rock's favourite defence mechanism was standing still.
Of course, dance music and club culture can both be stultifying and horribly predictable, but Oscar Powell's debut is a twitchy and confrontational remedy that may occasionally have the physically adventurous going nuts on the dance floor, but is a constant provocation rather than a comfy sofa of a record.
You won't find anything but remnants of actual songs here, but there's plenty for lounge listeners to engage with: loads of edgy, 1980s-referencing sampled dialogue, raw, static-filled textures and surprising interjections like the furiously percolating synth rhythms that get right in your face on "Frankie".
And rather than the anaesthetised, quantized, perfectly weightless machine electronics of most pop and dance music in 2016, it feels like Powell has clamped his body parts to the grid, allowing them to act as a conductor for his surging oscillations. In other words, Sport is curiously physical.
If Sport does it for you, then the grinding rhythmic repetitions of early 80s group DAF (Deutsch Amerikanische Freundschaft) might appeal. Even Albini professes to like them.