Nov 11, 2016 Music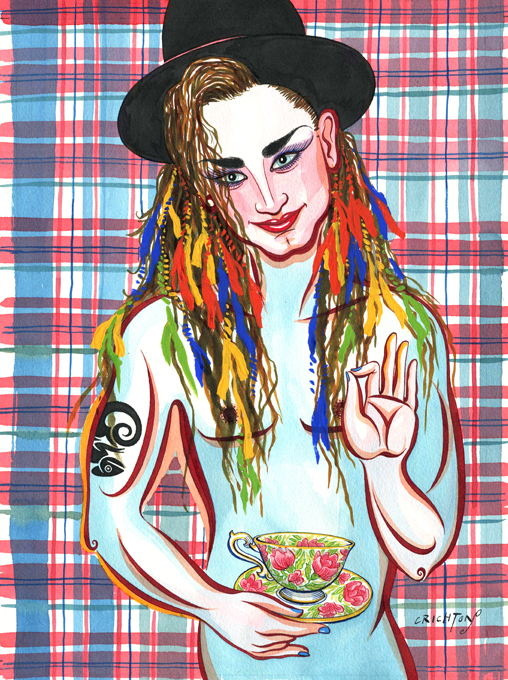 Is it a boy or a girl? The cry of dads all around New Zealand when their kids started bouncing around the living room to Culture Club. Is it a boy or a girl, the dads demanded, warming to their theme, every week for the six weeks "Karma Chameleon" was at number one.
It's hard to remember just how challenging it was to see someone like Boy George in 1983. We'd seen men in drag but they were parodies like Dame Edna Everage and Danny La Rue. Boy George was not a joke; instead, he bordered on the exquisite. What did it mean for the mainstream to enjoy his performances, or more shockingly, find him attractive? "I'm a man," he sang, "who doesn't know how to sell a contradiction." Au contraire.
The 80s were a weird time. Boy George could wear full makeup and braids, but publically identifying as gay was more tricky. He famously claimed he preferred a nice cup of tea to sex, which is the kind of thing you say when you can't say the truth. Boy George's karma has been nothing if not chameleonic. He was arrested for possession of heroin in 1986 but not convicted. He got clean and stayed that way for 16 years, exploring Buddhism, building a career as a DJ, and writing an autobiographical musical, Taboo.
A relapse was followed by a 2005 arrest in New York for possession of cocaine; the charge was dropped but for the false reporting of a burglary he was later sentenced to street sweeping, which the paparazzi enjoyed. His lawyer protested: "He doesn't need to be humiliated. He's a humble person." And it seems to be true, even of a man capable of writing an autobiographical musical.
In 2009 he was jailed for falsely imprisoning a male escort, serving four months of a 15-month prison sentence, but he's clean again now, and as beautiful as ever. The former George O'Dowd is never dowdy. He represents the kind of celebrity eccentricity that Britain adores. The core of his appeal, though, is his voice and music, which are no façade. "It might surprise people to learn," he told the Independent, "but I'm quite into my art form, you know?" Dissenting dads notwithstanding, the kids were into it, too.
Boy George and Culture Club play Vector Arena in Auckland on December 4.
This story first appeared in the November 2016 edition of Metro magazine.