Dec 4, 2013 Music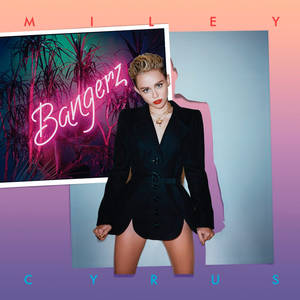 She may be a nut job, but Sinead O'Connor was right when she warned former Disney brat Miley Cyrus against sexual exploitation. Trouble is, it's too late. First there was the twerking, then the barely disguised soft porn of the "Wrecking Ball" video (just for the benefit of freeze-frame addicts), and now here's her coming-of-age statement, Bangerz, with its gallery of crotch-grabbing and provocative poses.
Nothing new there, perhaps: in a pop diorama featuring the overt sexuality of Lady Gaga and Rihanna, the only real difference is the 20-year-old's supposedly shocking graduation from whole­some fresh-faced child star Hannah Montana to hormonally charged nympho. That, and the pointlessness of it all.
It's easy to smell a rat here, to imagine the gorgeous young actor/singer's management plotting how to renovate their charge and turn her into an unassailable superstar with all the hyper-sexuality of her predecessors but none of the genuine girl power.
As flawed and superficial as it was, Madonna's take on sexuality was liberating to a lot of women in the 1980s, and lots of people view Lady Gaga as a more sophisticated and twisted hybrid of the same philosophy.
The same can't be said of Cyrus, whose Bangerz fails to assert a musical personality or even convey a believable idea of who this character really is. On the inner cover, she poses like a mannequin in nothing but a jacket and necklace, and her legs are cut off just above the knees: a suitable metaphor for the sounds within.
Her voice is mostly so processed that it almost hurts to listen to her horribly thin bleat, a robot desperately trying to imitate Rihanna's needle-thin Autotune vocals while attempting a Celine Dion power ballad about the most boring couple in the world.
The arrangements, the songs, the singing, the production — they're all non-starters, all fatally flawed.
For all its clichés, at least "Wrecking Ball" comes on like an anthem, and then there's "Drive", which really sounds like a first attempt to write "Wrecking Ball". Honestly! But mostly, it's a craven attempt to ape Rihanna, from the voice to the awkward rap cameos to the booty-bass and the sound-a-like Skrillex and Euro-house electronics.
On "4×4", she intones: "I'm a female rebel. Can't you tell?" Ah, no, actually. Elsewhere, the lyrics sound like they've been penned by a pervy engineering intern. On "#getitright", she sings: "Would you believe, I'm dancing in front of the mirror, I feel like I've got no panties on." And of course, there's a pic in the CD jacket of Cyrus tonguing herself in the mirror.
But let's not be harsh. Bangerz does have its moments. One of them is "FU", which alters the formula to incorporate a hint of the cool style of 1960s Shirley Bassey mixed with the retro makeover of an Amy Winehouse. There's a hint of levity every now and then, and even a sense of fun. But it's always ruined in the end by tracks that hardly even constitute songs, and concepts that struggle to call themselves ideas.
No wonder Lorde trampled all over Cyrus in the charts. It might be premature to herald a new age of meaningful, thoughtful and honest pop songwriting, but on this occasion content won over cack. Hold the mash.