May 13, 2016 Music
Jordan Luck's songs get bellowed from the terraces and piped into supermarkets. Now, he's celebrating a new clutch of words and music.
Photo: Stephen Langdon exclusively for Metro.
Three small pooches scamper around excitedly while the Kiwi rocker sprays himself with a fine mist from the nozzle of his garden hose. You could say it's like water off a Luck's back to Jordan, who barely shakes a tail feather as he chats away to his new best friend, Metro photographer Stephen Langdon.
Having dried off and clipped on the new miniature hearing aid that's one of the few signs of wear and tear from decades of bellowing anthems like "Victoria", "Why Does Love Do This to Me" and "I'll Say Goodbye (Even Though I'm Blue)", Jordan Luck fires up the espresso machine, and lights one of many fags.
Showing me around the house and garden, a leafy sanctuary hidden between the roar from Great North Rd and the whirr of the Northwestern Motorway, Luck gleefully notes that the eel-laden stream running through it turns into a "baby Waikato" river in winter.
He's an enthusiastic conversationalist, this raffish character who, at 54, wouldn't look out of place sharing a bill with Sam Hunt or Andrew Fagan: there's that same air of slightly worn-round-the-edges, Dickensian sideshow medicine man about him, with his great wedge of a face and shock of dyed hair.
There's that same air of slightly worn-round-the-edges, Dickensian sideshow medicine man about him.
Rarely answering a question directly, Luck prefers stimulating non sequitur, engaging diversion and voluminous storytelling.
I'm here to quiz him about the debut album — nameless when we went to press — of his on-again off-again Jordan Luck Band, which has filled in the gaps between Exponents reunions over the past 15 years, but has now become the main event. A settled line-up of Luck, former Dead Flowers guitarist Bryan Bell, not-the-Eagles guitarist Joe Walsh, and ex-D4 guys Beaver (drums) and Rich Mixture (bass) and 150 minutes of unrecorded songs meant the time was right for a stamp of permanence. And something to flog on their extensive Edens of Suburbia tour, a May–June trawl through cities and provinces.
Dragging me through to his workroom/man cave at the back of the house — lined with hundreds of books, thousands of CDs and walls of awards commemorating the 18 top 40 hits of the (Dance) Exponents — Luck plays me the near-finished album, concise at 35 minutes and geared for vinyl release, handing me the lyric sheet for each song as it blasts from his computer speakers.
In pronounced contrast to the geographically undefined lyrics of the latest crop of New Zealand songwriters, these tunes ring out in classic, guitar-based power-pop mode, with Luck wrapping Kiwi vernacular around his almost instantly hum-alongable choruses. It could be another iteration of the Exponents, were it not for the slight hard-rock edge brought to play by his bandmates.
"There's a lot of moon, sun, quite a bit of weather, rain, the elements," says Luck of the lyrics, which are also liberally specked with place names and local signifiers.
I wondered how, in the early 1980s, a pack of young bands suddenly got the mettle to ditch pub rock covers and celebrate the Kiwi way of life.
Luck remembers hanging on every word during school visits by poets like Gary McCormick and Sam Hunt, and when he formed a band, how it just seemed natural to write about life as you lived it. "There was a lot of inspiration. I grew up on [Christchurch bands] Pop Mechanix and Hip Singles, and every time we'd go to Dunedin we'd meet The Chills and flippin' Sneaky Feelings and writers like Graeme Downes (The Verlaines). And up north there was Don McGlashan (Blam Blam Blam), who was amazing. We could have copied the overseas stuff we were listening to, but there was enough inspiration locally."
It seems unbelievable now, but pop classics like "Victoria" were born out of commercial apathy. "At the time radio exposure was shite, and everyone thought "Victoria" was a weird choice as a first single, but no local single at the time was going to get airplay anyway, so there were no rules.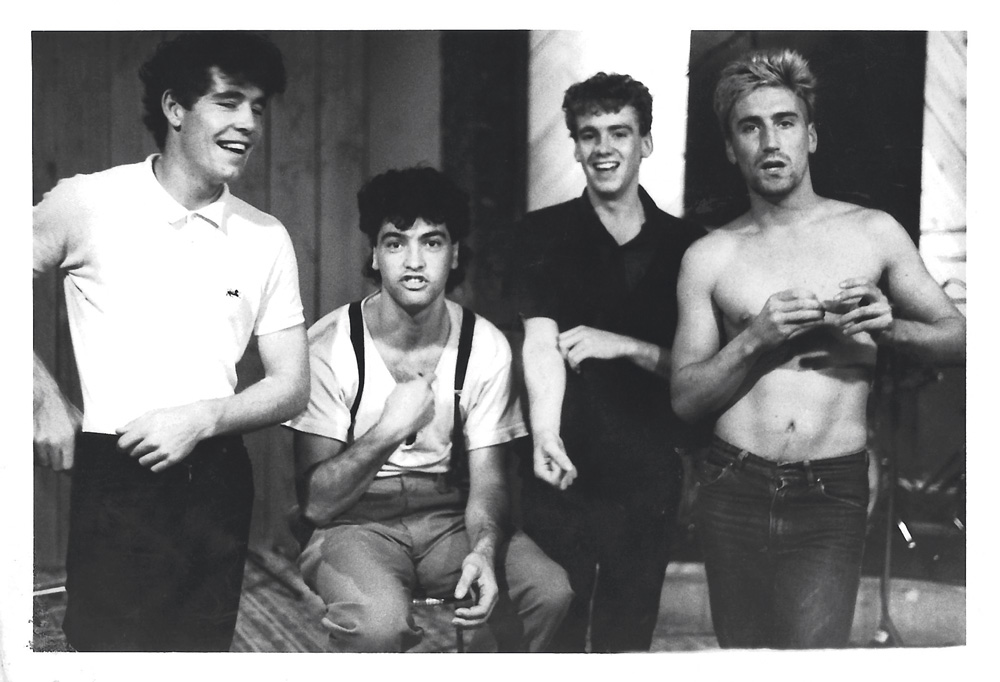 "It was in the early 90s when we came back from England that there were young kids coming up and singing 'Victoria' and I realised I might still be singing that in 10 years. And here it is close to 30 years and I'm still singing it."
It's with that hindsight that Luck writes now. "I realise, fuck, whatever I put out I might very well be singing it 15 years from now, and do I want to be singing it? What about the strength of the lyrics? It was that encouragement from the past really, an awareness that it's not really disposable pop, you'll be long dead and a lot of them will still be around."
And of course he's right. Exponents hits are piped over supermarket PAs, used in ad campaigns (Luck ruefully mentions his starring role in a recent Vodafone campaign: "I've been replaced by a pig. In a box!"), sung by terraces full of rugby fans, and were a tearful highlight of the huge Christchurch earthquake relief fundraiser.
Which doesn't mean that everybody knows their Luck from their Finn. "We did a festival and a lady came up and said, 'Were you the Jordan Luck Band in the eighties or were you still in the Mockers?'" And another time: "This woman said, 'I always used to come and see you guys in New Plymouth. The Pink Flamingos and that song "Victoria".' So she thought I was in the Pink Flamingos (Dave McArtney's 1980s band) and she was thinking of their song, 'Virginia'… I've been just about everyone. Recently, I was Andrew Fagan. Someone will say, 'I love Netherworld Dancing Toys' and I'll start singing 'For Today'!"
And dashing off for a pee, Luck shouts out his joy at the benefits of his hearing device: "I can hear the tinkle!"
The Jordan Luck Band's debut album is out on April 29. They perform at the Kings Arms on May 14. Jordan Luck performs in the David Bowie tribute, Waiting In The Sky, at the ASB Theatre, on April 15.