Jul 22, 2015 Music
 Music's greatest chameleon is everywhere and nowhere
If you've been alive any time since 1967, when David Bowie released the first of his 27 studio albums, his music is bound to have seeped into your life. There's his breakthrough 'Space Oddity', revealing his flair for marketing by releasing the plaintive tale of an astronaut abandoned in space the same week in 1969 as Armstrong and co did the moonwalk. The rise and fall of his alter ego glam-rock high priest Ziggy Stardust. The jangly swagger of "Fame," about falling peril to his dastardly manager. "Let's Dance" – the cheery 1980s dance hit that he used to illuminate racism in Australia.

His oeuvre is vast and complex and the inner workings of how it came to be is on show now at an extraordinary exhibition at Melbourne's Australian Centre for the Moving Image (ACMI). Melbourne is the seventh city to host the David Bowie Is, created by London's Victoria and Albert Museum (V&A). On its travels through Berlin, Sao Paulo, Toronto, Chicago and Paris the exhibition has been added to and this is it's largest presentation yet, with a special section on Bowie's encounters Down Under.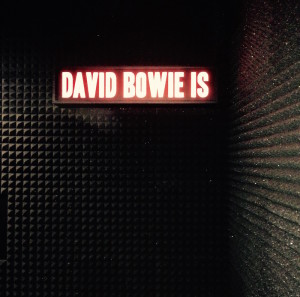 Descending into the dark cavernous exhibition space beneath Federation Square feels like a cross between dancing in Bowie's brainwaves and accompanying the showman on stage. As soon as you enter, his voice is in your head. "If I hadn't been a musician I would have been a writer," he murmurs in that gentlemanly English baritone through the revolutionary Sennheiser audio guide that senses where you are in the exhibition and plays audio accordingly. None of that frustrating punching in numbers and standing static next to particular exhibit. David Bowie Is, like the man himself, is all about keeping on moving. When contemplating his career, what's most astounding is the artist's relentless drive for change.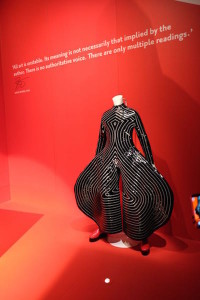 The boy born in Brixton with the unremarkable name David Jones was determined to be a professional musician since he was a teenager. He's done it through hard work. Bowie as master of his creative domain is evident in the many details on display. He allowed V&A full access to the 75,000 objects in his personal archive. The curators went digging and came up with 400 objects on show including a lipstick-smeared tissue, concept sketches for album covers and stage show lighting designs in Bowie's own hand, the computer programme he devised based on William Burroughs' system of cutting up sentences he used to write lyrics. The show also salutes to his acting career with items such as the crystal ball he wielded as Goblin King in the film Labyrinth and a handwritten note from its director Jim Henson as well as swirly portraits from his private painting collection. But it's the costumes, oh the costumes, that really evoke the presence of this genius shapeshifter. There are kabuki-inspired wonders by Japanese designer Kansai Yamamoto, the Pierrot clown suit from 'Ashes to Ashes', the tailored jackets of the Thin White Duke and a Ziggy Stardust jumpsuit lying in a coffin-like white box.
"We can say, 'David Bowie – a god.' He can't say that."
Bowie has had surprisingly little to do with this intensive study of his career. He handed over the keys to his archive then stood back in the shadows. It's rumoured he attended the London show wearing a disguise.
"Who knows what it would have looked like if he'd been involved?" says Kathryn Johnson, V&A assistant curator who was in Melbourne for the opening. "He does have an intense level of creative direction but throughout his career he's also said, 'When the work leaves me it belongs to the audience and I want to see what they do with it.' I think the way he was thinking about this exhibition – possibly he was a little nervous about creating it himself then being criticised. We can say, 'David Bowie – a god.' He can't say that."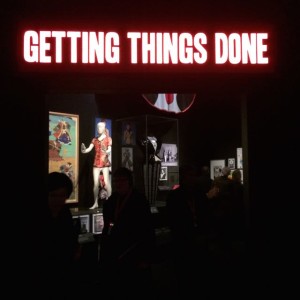 You get the feeling Bowie is too busy looking forward. He released his latest album The Next Day just before the London exhibition opening, much to the V&A curators' surprise. It's mentioned briefly in the exit statement alongside a picture of the spider named after him and a tribute to his influence on fashion. As one of the rooms in the exhibition says – David Bowie Is….Getting Things Done.
"Jarvis Cocker of Pulp came to look around the exhibition in London and he said it made him feel very lazy which is quite a statement coming from someone who has achieved as much as he has," says Johnson.
For all the intense detail in David Bowie Is, what you won't find is any salacious telling of a rockstar life. His cocaine use, first marriage to Angie and legendary promiscuity through the 70s and 80s that allegedly halted when he wed Somali supermodel Iman (his wife of 23 years) are conspicuously absent.
"That was a very conscious decision," says Johnson. "I think there have been enough kiss-and-tell memoirs to probe into his private life. That's not what we were interested in. We were interested in him as a creative person."
"Everybody thought he was this British poncy git who had arrived from nowhere."
Bowie has special significance in Melbourne. In 1978 he played his biggest show to date at the Melbourne Cricket Ground on his Low and Heroes tour before a sell out crowd of 40,000. "For Melbourne it was a very important cultural moment," says ACMI director, Katrina Sedgwick. "People queued for three weeks to get into the concert and it set up this whole kind of movement – socially and culturally. People who identified with Bowie became very visible and it was all about the counterculture and the alternative – being allowed to be eccentric and individual and idiosyncratically creative."
Newspaper articles, photographs and concert memorabilia have been added to the exhibition for the Melbourne showing, as has the inclusion of Bowie's "Let's Dance" video filmed five years later in the tiny outback town of Carinda, where the superstar had a very different reception.
"No-one had ever heard Bowie's music out there," says Sedgwick. "Everybody thought he was this British poncy git who had arrived from nowhere."
Struck by what he had seen of Australian race relations in the late 70s, Bowie and co-director David Mallet returned in 1983 and made a very political clip for what would be one of Bowie's biggest selling singles. The video features a young Aboriginal couple toiling as manual labourers for white employers. One scene shows them dancing while old white men sneer over their beers at the ever-cool Bowie leans against the Carinda pub wall strumming a guitar. "That's actual people in the pub jeering at him," says Sedgwick. "But he had a fantastic time. He was very passionate about trying to depict the racism that was happening in Australia at that time – of course it's still existing – in terms of the treatment of Aboriginal people and the white consumer capitalist culture that was being placed on top of Aboriginal people."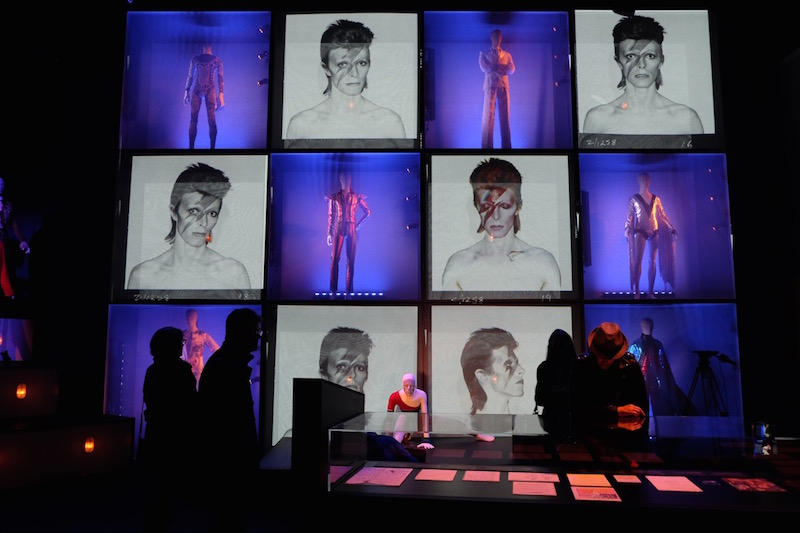 The weekend David Bowie Is opens there is a full two-day symposium with presentations of academic papers like "Flexes like a whore, falls wanking to the floor": 1970s Bowie and the Transgressive Representation of Gender and Sexuality. Bowie's take on identity, fashion, horror, celebrity, even haricuts is the subject of rigorous study. Being in a musuem setting pulls you into this serious analysis state-of-mind. And then David Bowie Is does something brilliant. It spits you into a room where giant projections of Bowie surround you. The music pumps. It's like being a concert.
"I think his work stands up to the level of scholarly attention but I think sometimes you need to say, 'This is just fun. This is great to dance to.'" says Johnson. "I've read interviews with Bowie at various points where he gets a little frustrated by complex reasoning and arguments around the work. He says he loves the fans who just stick the record on and dance to it."
David Bowie Is at the Australian Centre for the Moving Image to November 1.
Frances Morton travelled to Melbourne courtesy of Tourism Victoria.