Jul 4, 2019 Music
Climate change is the issue of our age, but few songs cover it effectively. Gareth Shute was struggling to write a song on the subject, so he decided to examine why it's such a tricky topic for songwriters.
In 2018, Jacinda Ardern claimed "climate change is our generation's nuclear free moment." But when the nuclear issue was prominent in the 1980s, it produced a raft of songs. Herbs wrote a trio of anti-nuclear tracks and one – 'French Letter" – even hit the Top 10 (twice!). Other Top 40 acts were similarly inspired – The Topp Twins wrote "Mr Ronald Reagan" and Shona Laing had both "Soviet Snow" and "Shipping Lanes." In the 90s, the DLT track, "Chains (feat. Che Fu)" also decried Pacific nuclear testing (and hit No.1). So where are the songs about climate change?
I decided to see if I could find any decent ones, hoping it might inspire my own attempt at writing on the subject. Surely a short, aggressive number about the need for urgent action wouldn't be too hard to create? Turns out writing a song with a clear political agenda these days makes you seem self-serious and naive.
We've come a long way from the 80s when musicians spoke out on political issues, earnestly came to play Live Aid, and recorded charity singles like "Feed the World" and "Do They Know It's Christmas?", which seem a tad cheesy by today's standards. By the new millennium, there was a realisation that systematic change was more important than raising money so Bob Geldolf's follow up to Live Aid (Live 8) was instead focused on forgiving third world debt.
By then, there'd been a backlash against do-gooder artists like Bono. What's more, his attempts at infusing rock music with political ideas was becoming hackneyed: "Women are the future, all the big revelations/I got a submarine, you've got gasoline/I don't wanna talk about wars between nations."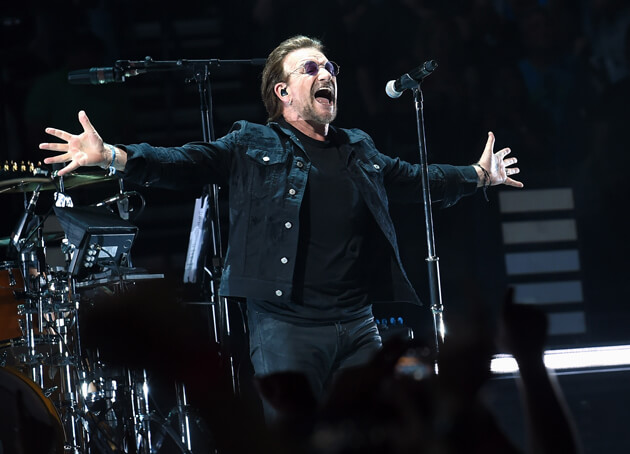 In the early 00s, a few tracks about climate change did appear, but they were clunky tracks by acts far past their prime – The Beastie Boys did "It Takes Time To Build" and Bad Religion had "Kyoto Now!" (both pleaded for the US to sign up to the Kyoto Protocol). Later, a few pop acts also had a go – will.i.am released "Take Our Planet Back" and Miley Cyrus dropped "Wake Up America!" (sample lyric: "everything I read: global warming, going green/I don't know what all this means, but it seems to be saying: Wake up, America").
The will.i.am track isn't on any of his official pages (though a fan has posted it). Drake addressed the subject on "Heat of the Moment", but it was never released (it's here) and the eco-inspired project promised by Grimes has also failed to materialise (her boyfriend, Elon Musk, must be disappointed).
NASA was so frustrated that they produced their own track, but it's ungainly to cram a song full of phrases about what carbon does in the atmosphere. The only alternative is to write something vague and hope the energy of the song carries your message across. In my attempts at songwriting, I found both these paths unsatisfying – if people want to know the specifics of climate change then they'd be better off reading an article, while it'd take someone younger and less cynical than me to write an earnest political anthem.
Another option is to use humour instead. Lil Dicky's recent parody 'Earth' took this approach and featured an array of stars – from Justin Bieber to Ariana Grande to Ed Sheeran – pretending to be animals while Lil Dicky proclaims his love for the earth. The song raised money for environmental charities, but its only message was "everybody look into whatever the fuck Leonardo DeCaprio is always pushing." Is this awareness raising or just encouraging people to laugh off their concerns?
When The Guardian asked their readers to recommend songs on the climate change, the suggestions were largely generic environmentalist songs from decades past – "Earth Song" by Michael Jackson (yuck!), "The Rape of the Earth" by Tracy Chapman, and Jackson Browne's "Before the Deluge". Amongst the few recent songs was one by a New Zealand act – "Claimed By The Sea" by French for Rabbits.
As it turns out, songwriter Brooke Singer wasn't setting out to write a song on the subject. "I wrote "Claimed by the Sea" when I lived five minutes walk from the sea. Perhaps climate change was on my mind but the pathway to songwriting inspiration is never linear. I think the song works as an observation, not a judgement. The emotion comes from a kind of imagined future nostalgia. I'm bringing the listener into this flooded house, which is no longer my home."
"Claimed by the Sea" works because it focuses on something singular – a feeling of loss about losing a home to sea-level rise. This focused approach seems much more effective than will.i.am's number above, which runs through the issues like a listicle.
Another difficulty with climate change is that we're all caught up in the system that's causing the problem. Musicians drive around in polluting vehicles like the rest of us and – if they tour widely – use more fossil fuels than your average person. This complicity was captured in the Home Brew song "Underneath The Shade".
The same sentiment of culpability infuses Awa's song "Papatuanuku" though – as you'd expect from a Nesian Mystik alumni – the lyrics tend towards hope rather than cynicism. The song's lyrics are an apology to mother earth.
Awa says writing it as a love song felt like the most honest approach. "It allows me to speak my truth in a way that is natural. By positioning it as a love song to Papatuanuku, I'm able to position it in a Maori world view and align with relationship issues that makes the song inclusive for all people. The beat was sampled and inspired by Casey Rarere, I was an honoured to have one of my idols, Che Fu, feature on it, and my talented friend Luke Sharpe produced the video. I knew radio wouldn't play it because they would struggle with the name, but I didn't care and it's still one of my favourite waiata I've written."
These songs illuminate a more unaffected way of songwriting about this subject. In my case, once I'd put aside the idea of creating a didactic song about the need for political action, a melody idea arrived out of nowhere, along with the words 'stay lost.' This pointed towards lyrics about avoiding the problems in one's personal life, but I realised that this applied equally to our attitude towards climate change – often we're actively trying to ignore it.
I've put "Stay Lost" (by Fever Party) into a Spotify playlist along with others I've mentioned here, plus a few more obscure/related ones that I discovered along the way. Do suggest more via social media or – if you're a songwriter – why not write one of your own? After all, isn't it one of the roles of art to help us grapple with common fears and encourage us to be our best selves?