Mar 12, 2013 Music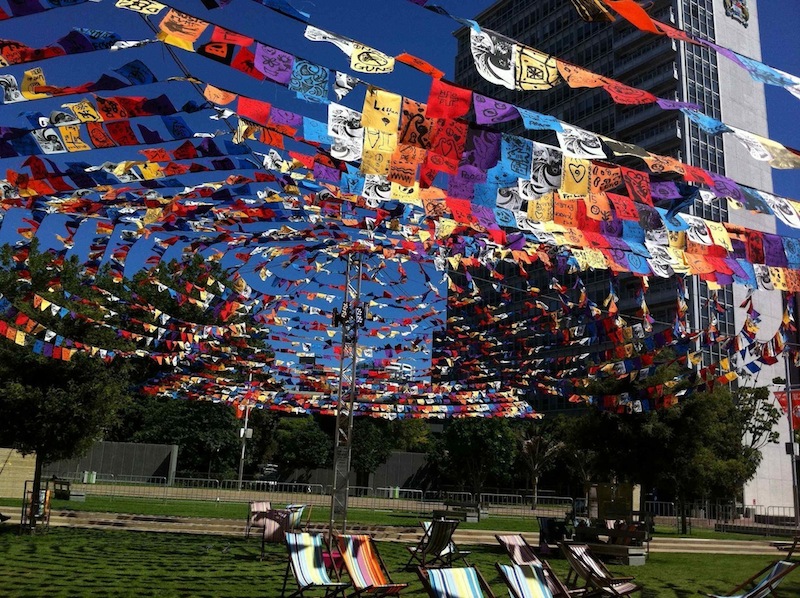 Fly Me Up To Where You Are, Tiffany Singh, Aotea Square, March 6-24.  
Fly Me Up To Where You Are: Te Waharoa, Tiffany Singh and Robert George, Artstation, March 2-24
Reviewed by Leilani Tamu
Set in the heart of the city, Tiffany Singh's installation Fly Me Up to Where You Are is a truly breathtaking sight. The colour, vibrancy and physical aesthetic underpinning the work captivates the eye. Lying beneath the flags (on a colourful deck chair) one can't help but imagine the sky as Singh's canvas and the wind as her paintbrush. The significance of the installation cannot be understated in that it is the end product of a year-long journey that has involved thousands of New Zealand school children. Each flag represents an individual child's hopes and dreams for the future. Collectively the flags symbolise a collective dream for New Zealand. This installation is more than just an artwork. It is an important taonga that provides a platform for a collective voice rarely heard.  The voice of New Zealand's children.
For those keen to understand the journey that led to the development of the project, it's worth visiting the accompanying exhibition at Ponsonby Road's ArtStation Fly Me Up to Where You Are: Te Waharoa. The exhibition features the work of film-maker Robert George, who interviewed several of the children that worked with Singh. It is equally moving and will act as an important archival artefact for future citizens interested in contemporary issues of concern to New Zealand youth in 2012.