Apr 7, 2015 Music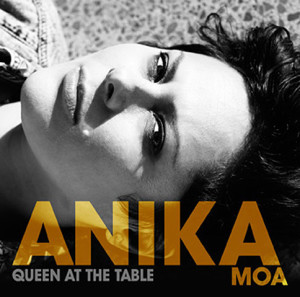 On the face of it,
Queen at the Table
is a big fat cliché; just like Brooke Fraser before her, Anika's belatedly rushing to play catch-up with Lorde. Yep, it's Anika's electronic record. Thankfully, it sounds nothing like Lorde, and exactly like the album that the smart and the wise always knew Anika had in her.
Too firmly encased in the mellow singer-songwriter paradigm, with all the baggage and boredom that comes with that done genre, it felt like Anika Moa had played herself out by her 2010 album, Love in Motion. It felt that she knew she'd played herself out, going by her subsequent retreat from the frontline, collaborating on the not so special Anika, Boh & Hollie, and performing guest shots with the old guard of Kiwi pop on the winery circuit.
Last year's surprising Songs for Bubbas, however, introduced a refurbished Anika. The album it purported to be was actually an entrée to the woman we meet on Queen at the Table, and as much as its sequence of songs may have been tailor-made to soothe sleep-deprived mums, they were also heart-on-sleeve lullabies that she sang with a new level of feeling; an expression that would have seemed foreign to the sweet, half-formed chanteuse of those earlier albums.
On Songs for Bubbas, Anika piled up angelic choirs of her own voice in perfectly pitched harmony, and that's a technique she takes to Queen at the Table, and extends to extraordinary ends. Except that this time there's only one guitar riff on the whole album, and pretty much everything else is created, played or sequenced on synthesisers and drum machines by Jol Mulholland, the multi-instrumentalist/producer whose skills have found him so in-demand by the Finn clan, amongst others.
This raw electronic rhythmic base is a world away from the endlessly quantised and airbrushed electronics of a group like The Naked And Famous, or the smooth symmetry of Lorde. Slightly crusty, and catapulting whatever takes Mulholland's fancy across the stylistic spectrum — a bit of dubstep here, a few bars of hip-hop there, a smattering of contemporary R&B flavours on this bit — it provides a minimalistic canvas for Anika's vocal turns.
And it's that voice, and her relentless pursuit of pure pop melodies and harmonies, that makes Queen at the Table fly. That, and the fact the autobiographical song-suite that makes up the album — a classic break up, crack open and start the healing story, punctuated by an unusually public expression of very personal regret — pushes her to a new emotional plateau.
Many breakup albums are just miserable, but Anika has kept craft to the fore, never wallowing, always finding a way to universalise her experiences through performances that are as skilfully executed as they are beautifully expressive. There's pain here, but joy too, and it's all wrapped up in pop songs with just a bit of the R&B diva running through them. Anika-style.
It's all great, from the opener (and first single) classic earworm, "Running", to the 60s-inflected nuances of "These Lonely Tears" and the pure emotion diva moves of "Lover", with its surprising sub-bass wallop. Her voice sways and swoons all over the mysterious torch song "Love Will Die", the dreamy R&B of "Closer" and on to the despair and vulnerability of "The Only Thing". And on, and on, every one a cracker, the compelling intricacies of a fractured love life set to top pop.