Mar 29, 2013 Music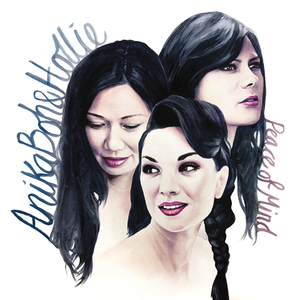 Okay, we get it. Three Kiwi songbirds find themselves in career slump. Someone has bright idea. Church and winery tours ensue. Everywhere, full houses and rave reviews. Album is scheduled. Album is out. It's a hit. Critical reception, however, is oddly muted.
Here's the rub: you want to like Peace of Mind, and there is a lot to like. Live, after a pinot or two, it's easy to ignore the slightness of so many of the songs, the sense that it's not what it could have been. Not so on record where, devoid of the trio's easy banter and performance charisma, each track stands or falls on its own merits.
And merits there are. At their best on the airy folk-meets-power-pop of songs like "Sea of Dreams", "Don't Really Care" and the title tune, it's here that their vocal harmonies take flight, effortlessly carrying the naggingly memorable choruses, and it's almost magic. When really together, in perfect concord, they do this thing that makes the spine tingle. It's something to do with the way Hollie Smith's emotive soulful cadences combine with the sweetness of Anika Moa's delivery, and the lemon-sprinkled tones of Boh Runga that just takes you there. It's like hearing tui song beaming down from the forest canopy over wailing women at a tangi.
But let's not get carried away. There are too many half-cooked songs to flesh it out into something great. Credited as collaborative throughout, it's clear that most of these tunes were already at least partly formed when the threesome sealed their deal. The weaker pieces ("Over & Over", "Why Don't We") sport Runga's inane, formulaic lyrics, while Moa's lyrics in "Lost" and "Like I Love You" are lovable in their batty allusions.
While both Smith and Runga have penned songs in the past that they would not have been shamed to take home to Moa, neither is in the same league. The production is risk-averse, too. Why not hire an electronic guru to spice up the sounds like Smith did on her radical remix with Mara TK? With a fourth creative party, even the weaker songs could have been infused with a scent of something.
And by tacking live versions of three past hits on the end as "bonus tracks", it's as if they're losing their nerve, admitting defeat, and rolling over for the winery picnickers.
So, there are some issues. But the union of voices is sublime, and even on, say, the rather turgid "Come Hell or High Water", when Anika, Boh and Hollie start twittering in harmony, I could forget its problems. Peace of Mind is like a handful of dust — insubstantial, but it does hang beautifully in the air, with a life that no amount of griping can deny.