Nov 27, 2015 Music
Father John Misty plays the
St James on Thursday, December 3
. The enigmatic singer-songwriter (born Josh Tillman) took on his deliberately cultish moniker after having a creative epiphany. He ditched his day job as the drummer for Fleet Foxes and started putting out honest, cynical and humorous solo records. His latest album,
I Love You, Honeybear
is fuelled by his love for new wife filmmaker Emma but is nowhere near as schmaltzy as it sounds – just check out his spine-tingling takedown of our post-GFC times in this performance of "Bored in the USA" on
Letterman
 that combines soaring strings and a laugh track.
I spoke to Father John Misty when I happened to be in his hometown Los Angeles and he was preparing to go on stage in Lyon, France.
1. He eschewed his conservative Christian upbringing and moved towns purely because of his musical hero.
 "Seattle for me was just that Damien Jurado lived there. And I was 20 years old and I was his biggest fan and I was like I want to be doing what this guy's doing and he lives in Seattle so I'm going to go out there. It was pretty unsophisticated.
"I was there for my entire 20s from 20 to 29. Most of that time was just spent working odd jobs and drinking beer and playing shows for no one."
2. He found his creative voice the rockstar way – up a tree naked on 'shrooms.
"Yeah, that's how it went down. I was at a point where I drastically needed a shift in perspective of myself and what I was capable of. I came down and started working on Mostly Hypothetical Mountains that night which was the quote unquote novel that comes with [the first Father John Misty album] Fear Fun.
"For me, making my own music is not so much about wanting to do it, it's an obsession. It's an impulse. I'd spent a couple of years trying to ignore that impulse. It was making me really unhappy but I really struggled because I felt it's such a great opportunity. It's such a great band. I really should be so grateful and happy to be doing this but I really struggled with it."
3. He approaches marriage like going on an ayahuasca trip.
"There is really nothing constant or magical about the institution. It's a very idealistic commitment that you make. I really like some of the Romantics like Blake or Shelley who talk about love as this transformative experience. It's an experience by which two people grow into their best or truest selves. I think our culture views it like an endurance race. It's this thing that if you can just make it through without cheating on the other person then it's successful. I think you have to define your own way. If you go do ayahuasca they'll tell you that you have to state what it is you want out of the experience. I think it's the same thing with marriage. You have to decide what you want to accomplish by committing to this other person. I think the things you want are going into it change over time. For some phases of life they probably become more pragmatic and in other phases in life they have the breadth to be more idealistic."
4. He can tell you exactly what to order at LA's celeb hangout Chateau Marmont.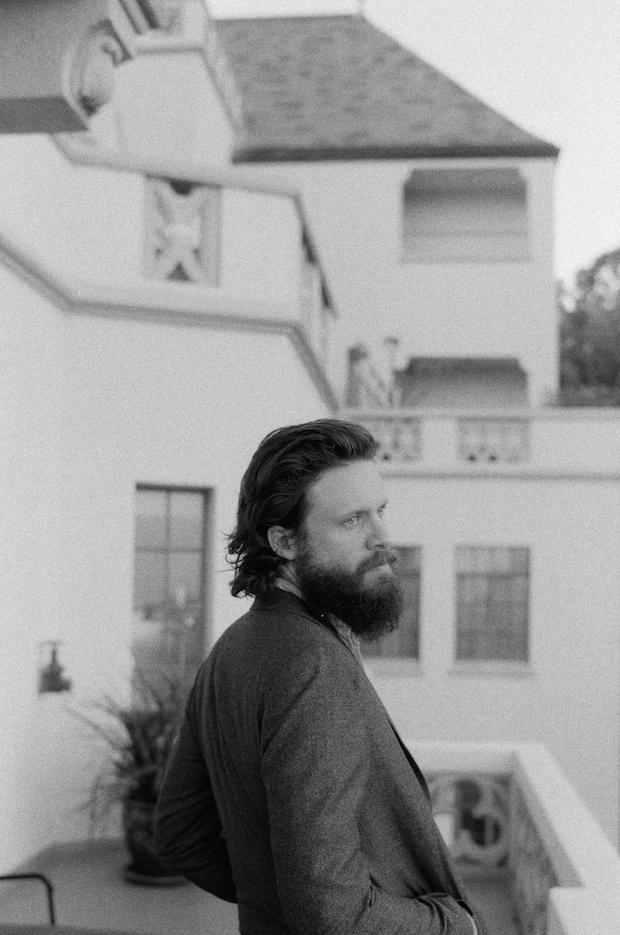 "If you're going for lunch they have a really over the top lobster cobb salad which is pretty great. For dinner you just have to get the spaghetti bolognese. It's a 75-year-old recipe. It's really fucking incredible."*
Father John Misty knows the Chateau well. He shot the video for his song 'Chateau Lobby #4 (in C for Two Virgins)' there on an iPad with his wife Emma. What a romantic way to spend an anniversary. Especially with lyrics like: "I haven't hated all the same things/As somebody else/Since I remember"
*I had the Bolognese. I concur. I hesitated because why would you order spag bog at a restaurant if you've ever lived in a student flat? But this one's transcendent – creamy and decadent. Good enough to trust his advice on which strip bar to hang out in (Jumbo's Clown Room) and getting a colonic irrigation. As Tillman says: "When you're in Los Angeles it is fun to take advantage of the wellness culture. If you get hydro colonic therapy it's hard not going around telling all your friends how great it is and how you should get your colon cleansed with lukewarm saline water.
Right: Father John Misty at Chateau Marmont. Photo: Emma Tillman.
5. Even the French think he's cool.
"On paper it works for the French. I'm wearing a suit. I kind of sashay around. I'm kind of snooty."
Father John Misty, St James, Dec 3, ticketek.co.nz