Apr 11, 2013 Film & TV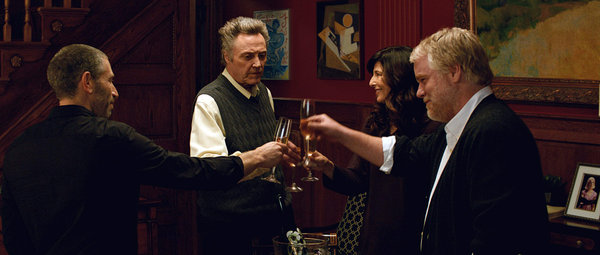 Performance
Directed by Yaron Zilberman
Reviewed by Graham Adams
Despite the prim image that perfectly turned out musicians present on stage, orchestras are notorious as hotbeds of gossip, affairs and rivalries offstage. The Fugue, a New York-based chamber quartet, is no exception.
The four musicians have played together for 26 years when cellist Peter (Christopher Walken) announces he has Parkinson's. This is the trigger for second violinist Robert (Philip Seymour Hoffman) to demand to be first violin, angering first violinist Daniel (Mark Ivanir), and Robert's viola player wife, Juliette (Catherine Keener). The strains rise to breaking point when Daniel takes an unhealthy interest in Robert and Juliette's student daughter, Alexandra (Imogen Poots), whom he is tutoring.
Yes, this is a soap at heart, but it's a classy one, with four excellent actors at the height of their powers playing four musicians at the height of theirs. Best of all, you don't have to be a chamber music buff to enjoy its considerable charms, although the music — like the story — will become seductive to most.