Nov 12, 2019 Film & TV
New Zealand director Taika Waititi's latest film Jojo Rabbit won Toronto International Film Festival's Audience Choice Award. Metro writer David Larsen delivers his verdict.
We used to say that the first person to mention Hitler in an online argument automatically loses, but that was before Hitler's idiot billionaire understudy got himself elected to the White House. The dangers of rhetorical escalation in these days of populist far-right resurgence are less to do with hyperbole than with H-word habituation through careless over-use.
Taika Waititi's new film, Jojo Rabbit, could certainly be perceived as careless if you squinted hard enough; there's a kitchen sink randomness to his humour, a willingness to dive sideways in pursuit of a passing joke. But the real risks he takes lie in the opposite direction.
Waititi played a hapless gang member and incompetent absentee father in Boy, and he cast Sam Neill as a grumpy unwilling father figure in Hunt for the Wilderpeople. Even Thor: Ragnarok was constructed around a son's need to step out of his missing father's shadow. In Jojo Rabbit, Waititi casts himself as a fatherless 10-year-old's imaginary best friend, and because the 10-year-old is unfortunate enough to be a naive, well-meaning German boy in 1945, this fantasy father figure's name is Adolf Hitler.
It's easy to suspect this of being a cheap shock tactic: let's chew the same bone I was chewing in those other films about lonely orphan boys and inappropriate male role models, but this time I play the Führer! As it turns out, the most shocking thing about Waititi's Hitler is that he's not very shocking at all. He's the Hitler a hero-worshipping 10-year-old might imagine, a sad, vainglorious fusion of wish fulfilment and half-comprehended propaganda. "You're the bestest, most loyal Nazi I've ever met!" he tells young Jojo, played with a lovely wide-eyed seriousness by Roman Griffin Davis.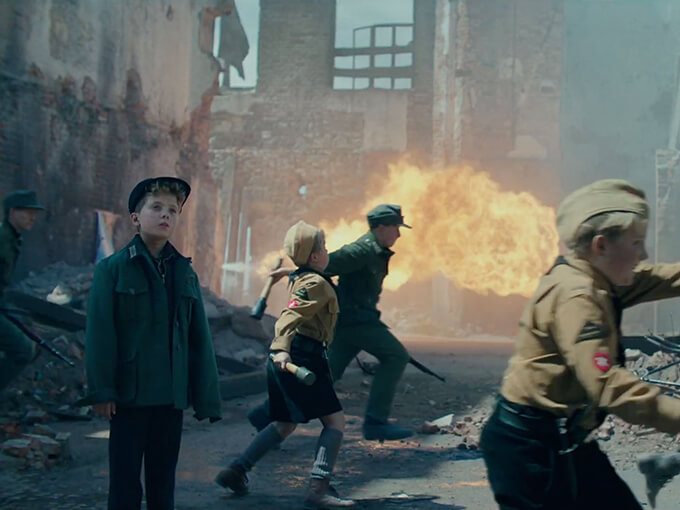 Davis's would be the most impressive performance in the film, except for the presence of the brilliant young Kiwi actress Thomasin McKenzie, playing Elsa, the Jewish girl Jojo finds hiding in his house one day, and Scarlett Johansson, playing Jojo's mother, Rosie. Johansson has spent a lot of the past decade spinning her wheels as the least-well-served original cast member of The Avengers, but if Marvel has done her no favours on that front, at least it brought her and Waititi into the same circles. Rosie is a gift to her, her most interesting role since Under the Skin, and she doesn't waste the chance to stretch herself. It slowly becomes clear that Rosie is desperately worried about Jojo's unthinking acceptance of anything anyone in a uniform tells him, but her response is never to argue.
Instead, she outflanks Nazi ideology on its weakest side, by showing her son what bravery and a love for life look like. The best and most startling scene in the film is the one where she responds to Jojo's anger over his missing father's absence by staging an impromptu role-play, to show him what life might be like if his father were still here: a lightning-from-clear-skies bit of cinematic magic which depends entirely on the strength of Johansson's performance. Meanwhile, Elsa is slowly forcing Jojo to realise that everything he thinks he knows about Jews is wrong. This is a story about good people trying to get through to a damaged child under extremely difficult circumstances, and that's where Waititi takes his big risk, because a film like this could so easily turn into an over-controlled Disney cartoon version of itself (especially now that Disney is the new owner of Fox Searchlight, the studio Waititi made this for). Watch as Mother teaches Jojo that love must triumph over hate!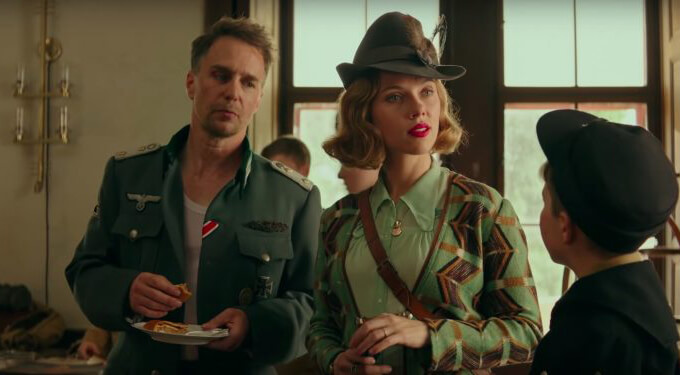 It's a strange thing to have to emphasise given the subject matter, but Waititi keeps his humour dark and wild enough to avoid stumbling into mawkish sentimentality. The adult Nazi characters are his best weapons here, in particular Rebel Wilson's Fraulein Rahm, the book-burning female auxiliary leader of the local Hitler Youth chapter, and the gimlet-eyed Gestapo agent played by Stephen Merchant. Their scenes approach the coruscating satire of Armando Iannucci's The Death of Stalin, a vastly harsher film than this one, but one sharing the basic position that history's monsters make the best possible targets for mockery.
Waititi himself, in blue-eyed micro-moustache Adolf mode, is at once central to the story and curiously peripheral. "Hitler as imaginary friend" makes a great tag-line, and the scenes between Jojo and his genocidal phantom buddy have some real spice. But while the relationship reflects everything that's going on in Jojo's life, it doesn't actually drive the plot very much. The heart of the film is Jojo's unwelcome realisation that he has a non-imaginary friend, and it's the Jewish girl hiding in his attic. Davis and McKenzie are wonderful together: funny, untrusting, sweet, mutually exasperated to be stuck with each other. Their found sibling romance is as moving as anything Waititi's done.
This piece originally appeared in the November-December 2019 issue of Metro magazine, with the headline "Absent fatherland".