Feb 28, 2020 Film & TV
In an Auckland where the guns are as ubiquitous as electric scooters, Guns Akimbo is deranged, sickeningly violent and utterly gripping.
Set in Auckland?! A movie with Daniel Radcliffe and lots of explosions and special effects here? Yep – it appears Lorde was wrong when she sang "we live in cities you'll never see on screens."
The movie doesn't mention our city by name… and it shows a world map that implies they are in America so set in Auckland may be overstating things a little, but locals will spot the characters careening down Customs Street and have the smug pleasure of knowing (as only a local does) that the director made a sneaky cut when the action turns a corner and suddenly we're on Mercury Lane. The director is Kiwi Jason Lei Howden who is also known for Deathgasm, starring Shortland Street's Kimberley Crossman. Rhys Darby keeps his Kiwi accent as a friendly homeless nut – a character is eerily close to Psycho Sam from Hunt for the Wilderpeople (so much so that I reckon Rhys pulled a sneaky and is imagining Sam moved into the city) [Or that Rhys Darby only has one bit – Ed]. Many of the viewers of the "live stream" following the main characters have Kiwi accents too.
Which brings me to the very Black Mirror premise. Keyboard-warrior, video game coder, asthmatic Miles (Daniel Radcliffe) takes his trolling too far when drunkenly policing the comment section of Skizm, an illegal streaming site that forces criminals to fight criminals (very Death Race). That move earns him a place in Skizm – he wakes up with guns to his hands, bolts right through the flesh and all (how do his hands still work!?), and an order to kill Skizm's pretty, cocaine-addict, fan-favourite player, Nix (Samara Weaving,The Babysitter).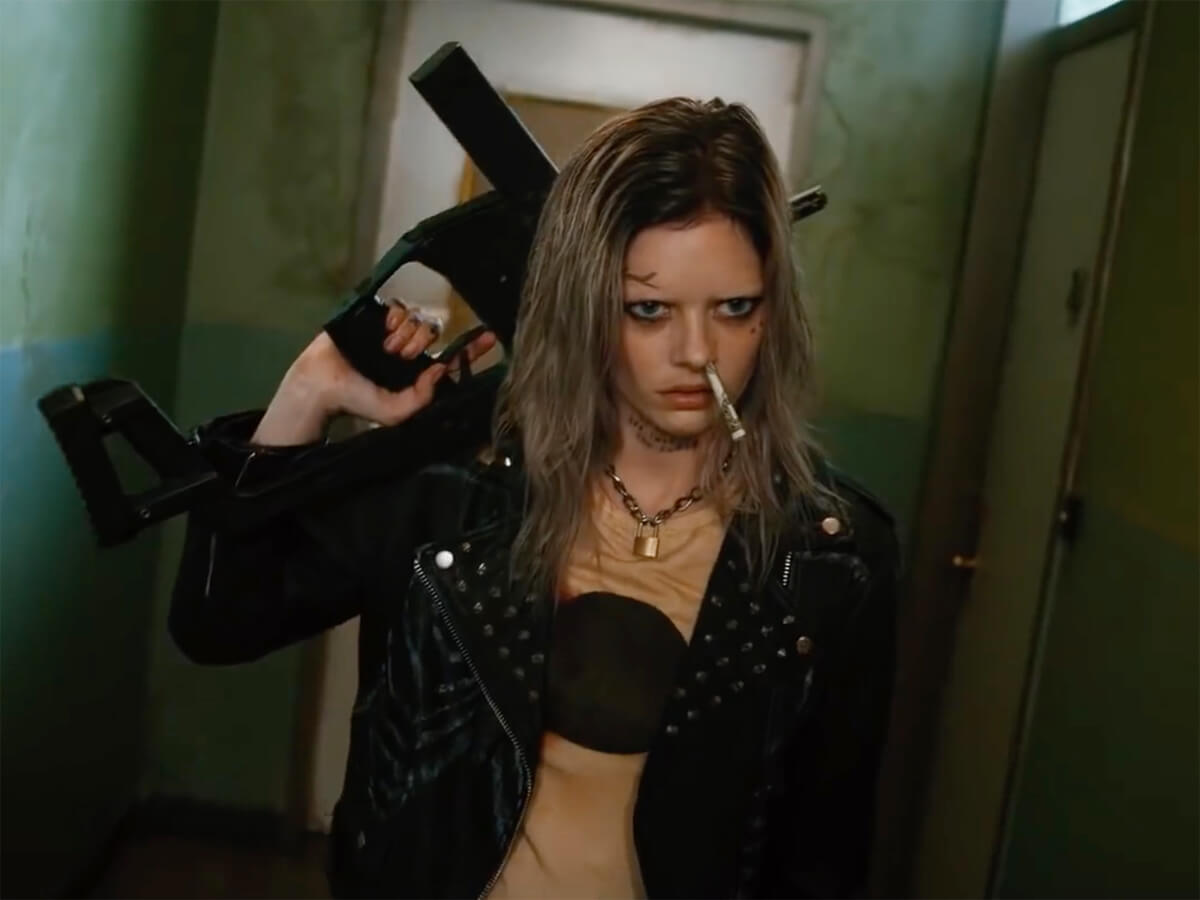 The movie is full of pastiche, and reminds me of 20 things at once. The brightly lit guns and violence feels like John Carpenter's Escape from New York. The normal nerd guy thrown into a situation where he's the hero set to video game noises, dizzying jump cuts (Edgar Wright himself will be jealous) and featuring a girl with multi-coloured hair is very Scott Pilgrim vs. the World. The do-it for-the-views aspect of Nerve (don't bother watching that one, it lacked teeth.)
Guns Akimbo does not lack teeth – though Nix literally spits some teeth out at one point. There is so much violence that the movie's attempt to satirise violence in media becomes a bit suspect and I again am left wondering if showing lots of something is the best way to critique it. In this case, the amount of violence makes you a bit sick. There is actual commentary on it throughout the film too – Miles goes on an angry rant at the audience, aghast at the way they are lapping up the suffering. They howl with laughter.
But that combination of gritty pastiche with ultra-fast-paced violence and laughs gives a B-movie feel to Guns Akimbo. And I mean that in a good way – it has that lovely not-too-polished rough-around-the-edges feeling of maybe being something you can only watch in a dirty arthouse theatre on a certain day at a weird time. It doesn't take itself too seriously: the violence is tempered with laughs. You don't have to just imagine how hard it would be to use the bathroom with guns for hands – they'll show you.
That said, the pastiche comes together in a way that feels original. That unpolished thing is that it is really a careful product of being very polished – nearly every cut is a jump cut and they are all lightning-fast – the car chases are impeccably choreographed and the gore is realistic.
It follows Daniel Radcliffe's post Harry Potter brand of fucking weird but undeniably original movies in the lines of Horns and Swiss Army Man. And congratulations to him, because I never imagined a movie in which you see the Farmers building would be this much of an unhinged spectacle.
NB – This review deals with the contents of Guns Akimbo, and does not touch on the director's real-world online meltdown, which was covered by The Spinoff here.