May 2, 2017 Film & TV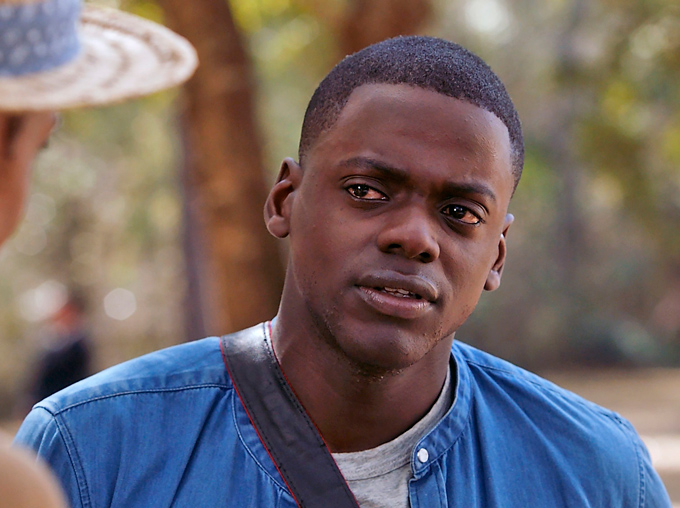 Get Out is a slam-dunk pop-culture classic, and you need to see it.
It's also at the far end of the spectrum for spoiler vulnerability: if you can manage to get to a screening without knowing anything beyond, "Apparently, it's a lot of fun", you'll be doing both the film and yourself a favour. What I'm saying is, stop reading this review.
There are a couple of reasons it's better not to know the things I'm about to tell you. First, the film is what you might call genre-fluid: it dances nimbly in and out of several storytelling modes, so that any simple label you put on it is going to be wrong. This wouldn't matter too much, except that one of the modes in question happens to be horror. I've already had several people tell me there is no way they're going to watch a horror film, and when I respond that this isn't a horror film, it's a psychological suspense/comedy/satire/horror film, a sweet and clever one, a film they'll like, in fact a film they'll love, they shake their heads mutely and back away. The damage has been done.
The more important reason not to go into the film knowing very much is that it's so tightly written. Writer-director-producer Jordan Peele — of the brilliant TV comedy duo Key & Peele — constructs his screenplay like a master artisan building one of those spacious, airy cathedrals where every graceful little detail is actually a load-bearing strut. In scene after scene, he sneaks vital plot set-up past you by making it so funny, or suspenseful, or both, that you assume the immediate entertainment function is the only one being served. The less you know about where he's going, the better this works.
As the film opens, Chris (Daniel Kaluuya) is packing for a weekend away with his girlfriend, Rose (Allison Williams, Marnie from Girls). This would be fine, because they have great chemistry and they're clearly head over heels in love. But Chris seems nervous, and he has reason to be. Rose is taking him to meet her wealthy parents. "Do they know I'm black?" Chris asks. "Should they?" Rose replies.
With this simple exchange, the parameters of the comedy and the deep underlying suspense fall into place. Rose is a white liberal and the daughter of white liberals. "My Dad would have voted for Obama a third time if he could!" So Chris has nothing to worry about. Obviously. And as for his growing sense that something isn't right, as he meets Rose's so-accepting, so-open-minded parents, who have black house servants, and live a very long way from anywhere, surrounded by other rich white people who seem to find Chris awfully interesting… well. Race is complicated, and it's so easy to be paranoid.
This puts Chris in a complex position, and we can see every nuance of it in his face. The performances are outstanding across the board — Bradley Whitford and Catherine Keener are spine-chilling as Rose's parents, and Betty Gabriel, who plays Georgina, the house maid, has one of the most arresting scenes in this or any other recent film.
But it's Kaluuya's movie. He takes full advantage of a role likely to become as iconic as Bruce Willis's in Die Hard or Bill Murray's in Groundhog Day. Neither of which Get Out remotely resembles… except in stature. Peele wrote the film to satirise the liberal pieties of the Obama era. But its deft skewering of covert and overt racism makes it feel like the pinpoint-perfect zeitgeist movie for the scarier age of Trump.
Directed by Jordan Peele
Opens May 4
? ? ? ?1/2 
This is published in the May – June 2017 issue of Metro.
---

---