Jan 4, 2018 Film & TV
Call Me By Your Name
Directed by Luca Guadagnino
???? 1/2?
Call Me By Your Name is a long, sumptuous coming-of-age tale that's utterly worth not knowing a thing about before you let yourself sink into it. Unless, of course, you have read André Aciman's novel upon which it is based, in which case, as you were.
Directed with sensual attention by Luca Guadagnino (I Am Love, A Bigger Splash) and written — after years in various hands — by the great James Ivory, who also adapted one of the important gay-romance films of the 1980s (E.M. Forster's Maurice), we are in very good hands. Amidst heaving apricot trees and lazily chirping crickets, Elio, a 17-year-old American-French-Jewish son of an academic family, and Oliver, the 20-something doctorate student who comes to live with them for the summer in their gorgeous Lombardy villa, dance around each other for a lip-bitingly long time.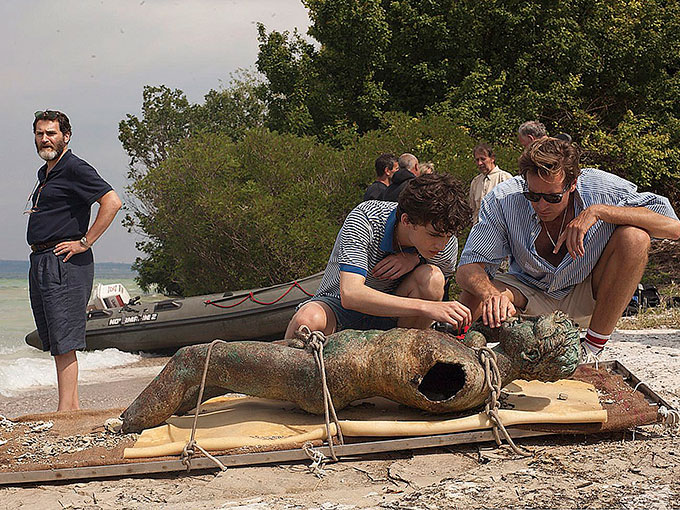 Timothée Chalamet is a divine Elio, all long eyelashes and precocious talents, unsure of himself around Oliver, yet cocksure at the same time. Armie Hammer as Oliver is a man-mountain of confident American energy, who reveals his vulnerabilities in delicious layers. (Thank goodness for the 1983 setting; smartphones and Grindr might have made this story so different, and so much shorter.)
Call Me By Your Name has a languid, unstructured feel that serves as a mirror of its summery setting, and as a blessed relief from Hollywood's relentless three-act structure. Days blend into each other, hours go unhurriedly by, and characters take their time, until suddenly there's not enough time left. 
What's really lovely about the novel, and the adaptation, is that Elio and Oliver are able to undertake their journey to seduction without the apparent weight of society on their shoulders. The people in their orbit are intellectuals and lovers; if they worry for these young men and what they might face once summer ends, they don't let it interfere with love's path. And there is a spectacular father-son moment, one to die for, one that many will wish they had had in their own lives. It feels like an exquisite gift to the audience for our own patience and care.
Opens December 28
This is published in the November- December 2017 issue of Metro.