May 18, 2015 Books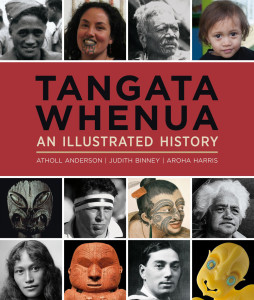 TANGATA WHENUAAtholl Anderson, Judith Binney, Aroha Harris(Bridget Williams Books, $100)
Nigerian novelist Chimamanda Ngozi Adichie once spoke of "the danger of a single story". "Show a people, over and over, as one thing, and that is what they become." In the history of Maori history, there have been plenty of single stories.
S. Percy Smith's Lore of the Whare Wananga (1915) bludgeoned complex oral accounts into a single narrative of how Maori become tangata whenua. His tale of Kupe, the Great Fleet, and the extermination of a pre-Maori race found its way into school textbooks. As history goes, it's inauthentic, unreliable and careless with what Bishop Williams kindly called "literary artifice". As a story, it's memorable.
A sales assistant in an outdoors store recently told me Maori shouldn't complain about colonisation because of what they did to the "Hurihuri". I found myself rehearsing arguments from Tangata Whenua: An Illustrated History.
Tangata Whenua has been lauded as the definitive statement on Maori history, and with good reason. It's magnificent as accessible history and as a coffee table centrepiece. Spanning the earliest ancestral migrations through to contemporary music, it looks at identity, language, descent and culture with a keen eye to politics and land.
But rather than fixing a definitive story of its own, the book's power lies in its multiplicity of voices and viewpoints. Five hundred exquisite images extend its breadth; informal snaps and formal portraits sit beside images of taonga, maps, sketches and artwork.
Opening the book at any point is rewarding. Page 260 shows a seated man with full moko in the old style: deep incisions catching the light. He wears a tweed suit and looks up at the camera with an expression of mild annoyance. His face is familiar.
This is Wiremu Patara Te Tuhi, who was painted wearing traditional dress by Goldie. Here he's not fixed in oils but alive in photography, the papers in his hands blurred by movement. He was editor of the first Maori-run newspaper, Te Hokioi, printed on a press donated by the Emperor of Austria.
Histories unfurl in all directions. There is no single story in this book, just as there can be no single story of Maori. Tangata Whenua is a rich and essential addition to the debate.