May 11, 2015 Books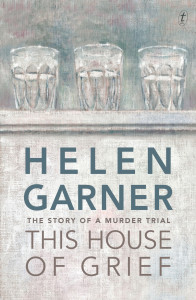 This House of Grief: The Story of a Murder Trial
Helen Garner
(Penguin, $38)
I remember the night I heard that an Australian man's Commodore had gone off the road and into a dam. He'd been taking his three sons back to their mother after a day out. He swam ashore. Trapped inside, the little boys drowned. Hard to say which hit me first, the horror or my kneejerk response — another man getting back at his ex.
Helen Garner felt the horror, too, but my unreflecting leap to judgment remained for her a haunting question — were the deaths accidental or deliberate? And thus began the almost decade-long odyssey that resulted in This House of Grief, published last year.
When I wrote to congratulate her on publication day, she replied that she'd just come back from the eye doctor and had "floaters" in her right eye. "To be frank," she wrote, "I believe the floaters are bits of my heart that snapped off during the years it took to write this goddamn book."
The car went into the dam in 2005, and in 2007 Robert Farquarson was found guilty of murder and sentenced to three terms of life imprisonment. Throughout the first trial, the boys' mother clung to her own certainty — that Farquarson had to be innocent — and two years later his conviction was overturned. But during the second trial it came to light that he had told a mate he'd thought of killing the boys. In 2010, he was found guilty again.
I couldn't read parts of Garner's book at night. Yet over those years she attended court religiously, watching, listening, thinking, speaking with various players at a coffee stand outside. Being torn one way then the other. She allowed herself to live with uncertainty, then with empathy for someone who, it seemed increasingly likely, had done the unthinkable. When Farquarson's third and final appeal failed in 2013 and he was jailed, she finished the book.
In hindsight, her debut 70s novel Monkey Grip offered a clue to the direction her writing life would take. The diary of a single mother's desperate life with her junkie lover, it works on the reader the way love and drugs work on its two main characters. It won't let go. As unstructured as real life, and with no neat resolution, the work failed to meet conventional standards for the well-made novel and critics hurrumphed.
Twenty years on, her non-fiction The First Stone told of two young women who pursued an academic through the justice system. It dared to challenge the dogma that even minor incidents of sexual harassment must be punishable, and it brought outrage down on her head.
In Joe Cinque's Consolation, a law student plans to murder her boyfriend. The attempt fails. But in spite of several friends knowing of the plan, no one warns Joe, and eventually she kills him with a drug overdose.
She and her best friend are charged with murder; the friend is acquitted, the girlfriend found guilty of manslaughter.
An interviewer described Helen Garner as a "knot of intensity". And how could she be otherwise when she's made a practice of looking beneath horror, and beyond the black and white of justice, even truth. Where's the humanity, she asks? An altogether more complex — and dangerous — challenge. She compels us to join with her uncertainty. We can only be grateful for that.
Helen Garner is a guest of the Auckland Writers Festival, May 13-17, Aotea Centre. writersfestival.co.nz