Sep 30, 2014 Books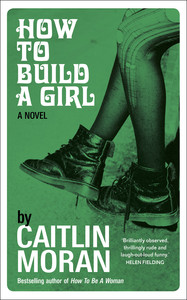 Johanna Morrigan, protagonist of the novel
How to Build a Girl
, grew up in a council house in Wolverhampton with many siblings — just like the author, the award-winning columnist, good-humoured feminist and Twitter supremo Caitlin Moran.
Like Moran, Johanna is precocious; she starts writing for a music magazine while still a teenager, just like, er, Moran. But Johanna is not Caitlin, the author's note tells us firmly. This book is fiction, any similarities are coincidental, apart from a few biographical details. I guess that means the real-life Moran didn't, in fact, do a Scooby Doo impersonation live on daytime TV, or introduce the Smashing Pumpkins to her father. Nor should Johanna's tips on how best to navigate the perils of a very big penis be taken as having been drawn from any sort of authorial experience. (Brace with your arms and think of Han Solo, in case you were wondering.)
There's a lot of sex in here, and that's deliberate. Moran says she wrote the book as a corrective to the 50 Shades of Grey version of female desire. "The rich powerful man who gets to spank his lover intimately with a hairbrush and he'll give her an iPad" is how she puts it. It's this sort of cracking straight-talk that makes Moran a phenomenal columnist, but her portrayal of teenage sexuality isn't entirely convincing. Do 14-year-olds really put roll-on deodorants to such uses? And so frequently? For those of us who've had a sheltered upbringing, How to Build a Girl is an instructive experience. Extra points for a joke about Dunedin.
How to Build a Girl by Caitlin Moran. Published by Random House, $36.99.