Aug 21, 2015 Art
Metro had two writers in Venice for the Biennale, charged with reporting on the art, artist and all those amazing parties.

This story first appeared in the July 2015 issue of Metro. 
On my first morning in Venice, I arrive at Piazzetta San Marco to find every New Zealander in the city congregating at the entrance to the Marciana Library. Simon Denny is there, along with family, collaborators, friends and patrons, all clustered in the crowded square.
We walk up the library's Golden Staircase. Above us, the impossibly ornate ceiling is supposedly an allegory of the acquisition of knowledge. In the reading room, Titian has painted Wisdom as a woman with a long scroll, looking not at the scroll but at herself in a mirror.
In the grand room, we enter through Denny's sliding plexiglas door, following Muriwai Ihakara from Creative New Zealand as he asks the spirits to facilitate a conversation between the library and its work and Denny and his. Most of us are seeing the work for the first time, taking in everything we can while respecting the blessing. The humming server vitrines filled with the imagery of modern intelligence, the walls lined with Renaissance paintings, several by Tintoretto, of Plato, Aristotle and Diogenes.
The cumulative effect of the classic unknowingly reflecting the contemporary is profound. Knowledge is indeed power. And the NSA, GCSB and all the rest sure do have a lot of it. Here in Venice, Titian, Coronelli, Tintoretto, Fra Mauro, Edward Snowden, David Darchicourt and Simon Denny are all interacting, all illustrating knowledge, power, and the lay of the land in each of their times.


Later that day, after the patron's drinks, I am waiting outside the library with Secret Power's graphic designer, David Bennewith, Denny's technical adviser, Matt Goerzen, and a couple of Denny's friends. Two days ago, Denny gave an interview to the Guardian, which included a discussion of David Darchicourt, formerly of the US National Security Agency, and his until-then unwitting role in the exhibition. The article was published that morning and Bennewith, Goerzen and Denny have been on edge all day, waiting for Darchicourt's reaction. Goerzen has told me about Italy's strict copyright laws, which could allow Darchicourt to tie up the entire show in litigation.
As we try to agree where to drink, Bennewith receives an email from Darchicourt. He reads it with a shocked smile on his face, before showing it to Goerzen and running off excitedly to find Denny.
The next day, Denny tells me that keeping Darchicourt in the dark was an important part of the work: it's an illustration of the way in which, when we put our information online, we don't know how it's going to be used. He says when he read about the Snowden leaks, it immediately altered his perception of online commun-ication. What was previously thought to be private (emails, Skype conversations, texts) was public, and there is no going back.
To Denny's relief, Darchicourt's response is mostly positive. He tells me the word "flattered" is used, as is a joke about telling you but having to kill you. You'd think people who've worked for intelligence agencies would be sick of saying that.


The biggest night is the night of the opening. Everyone arrives at the library in their best, whitest and blackest outfits, and the Prosecco flows freely in endless toasts. Denny, who usually wears Nikes, slim jeans and a crewneck sweatshirt, has dressed up in a shirt, sweater and blazer.Tall and thin, with close-cropped hair, he looks every bit the Young Incorporated Artist, as comfortable blue-skying it in a venture capitalist's boardroom as working in the studio.
Nicolaus Schafhausen, a curatorial star on the rise, makes a confusingly disjointed speech about Kim Kardashian, Björk, self-promotion and cultural meaning. He talks about first meeting Denny in New Zealand and how great it was that he was handsome and lived on K' Rd. Sure, he is handsome, but it seems like an odd moment to say so.
Hans-Ulrich Obrist arrives with two assistants. Obrist, curator of London's Serpentine Galleries, where Denny is showing later this year, is one of the most powerful people in art. Grey and balding, with the skin of someone who travels every weekend, he looks old for a man in his forties but moves and talks with the enthusiasm of a precocious youth. Everyone watches him, while trying to look like they're not.
Denny gives him a tour of the exhibition, narrating into Obrist's iPhone. Obrist doesn't look at the work so much as inhale it. One frantic lap, an animated conversation, and he's gone.
(Of the many legends that precede Obrist, one is of him arriving and leaving an art fair in the time it took a writer standing outside to smoke a single cigarette. On his departure, he was heard giving his companion a rundown of every work he thought was interesting.)
The party moves to the ballroom of Hotel Danieli, which, 70 years earlier, was occupied by New Zealand's B Company of 22 Battalion at the end of World War II. It's here that Denny's private galleries (Michael Lett, Galerie Buchholz, Petzel and T293) are hosting a proper Biennale party. Bellinis and canapes, consumed at high frequency. Men in tuxedos, serving ravioli and risotto from a glistening station.
The room is filled with money (collectors), ambition (young artists) and power (curators), but it's rarely obvious who is who. Is that man's suit from Savile Row or a sweatshop in China? Is she wearing Céline or last-season Céline made by Zara?
Most people are working the room, on the clock one way or another. I meet two European artists whose ears prick up when I tell them I'm a journalist, only for them to recede when I say where I'm from. I meet the woman who helped conceptualise "normcore". I meet an artist in his 20s whose paintings have been selling for more than $100,000, except he's just been ranked number one on the Liquidate list at artrank.com.
It's rarely obvious who is who. Is that man's suit from Savile Row or a sweatshop in China? Is she wearing Céline or last-season Céline made by Zara?
Everyone is funny and social and exuberant, and gets more so as the bellinis keep coming, but no one lets loose. They're here to see and be seen, not to get fucked up and make a scene. An over-sized PA plays southern rap and Top 40 R&B at a volume that signals dancing, but the lighting is way too bright for anything like that.
A small, well-dressed crowd hangs around outside the entire evening: they're hopeful, but the guest list is scrupulously checked. Every night of the Biennale there's one party everyone wants to go to and tonight it's Denny's. His show has been in the "Must See at Venice" previews everywhere from Artforum and frieze to the New York Times to the EasyJet inflight magazine. The Biennale is about hype and momentum, and Denny has both. If you're ambitious, powerful or wealthy, the party is where you want to be — anyone can see the show.
There's a flurry of activity around Denny — hands to shake, guest list to check. He's not just a great artist, he's great at being an artist. He's the gravitational force in the room, greeting almost everyone, entering and exiting conversations with ease. He gives time to family, friends, patrons, curators and volunteers, and he seems happy, allowing himself to enjoy the achievement.


The next day is the first day of the vernissage (the two-day preview for media, art people and the wealthy). With a slight hangover and considerable caffeination, I spend the day in the crowded Giardini, a tree-lined park housing much of the curated exhibition All the World's Futures and the 30 permanent national pavilions.
Everyone is in their best casual outfits, perfectly un-put-together in the heat. Men mostly in blacks, greys and whites — the art people in slacks, the rich people in suits. Women mostly in summer dresses and sandals with bandaged feet from all the walking they've already done.
People swarm in slow-motion among the pavilions. "I could see more art," says a woman in an England-educated European accent which I can't quite place, "but I couldn't see more people."
Denny is not alone in his obsession with technology, data and information. Hito Steyerl's Factory of the Sun, in the German pavilion, is a 20-minute film, playing in a dark Tron-like room. It's a relentless tour de force about the personal and political implications of digital media. In the Uruguay pavilion, Marco Maggi has stuck tiny pieces of white paper to the wall, each cut with an X-acto knife to look like abstract circuitry. The publicity describes the work as examining "the way information is processed in a global era". It may as well be the official theme of half the Biennale.
The other major theme is capitalism, finance and inequality — most explicitly illustrated by a seven-month live reading of Marx's Das Kapital. After exiting the auditorium where an actor is explaining the relative values of tea and linen, I see a woman bump into an old friend. "You can help me," she says, "where's the exit?"
"Through Marx and to the left," he says. "Everything goes through Marx."
I see a photocopied flyer with a photo of the exhibition's curator, Okwui Enwezor, in a nice suit, on a nice yacht, his arm around another man in a nice suit who has the face of Karl Marx stapled over his own. "What does an elitist event like the Venice Biennale has [sic] to do with Karl Marx?" the flyer asks.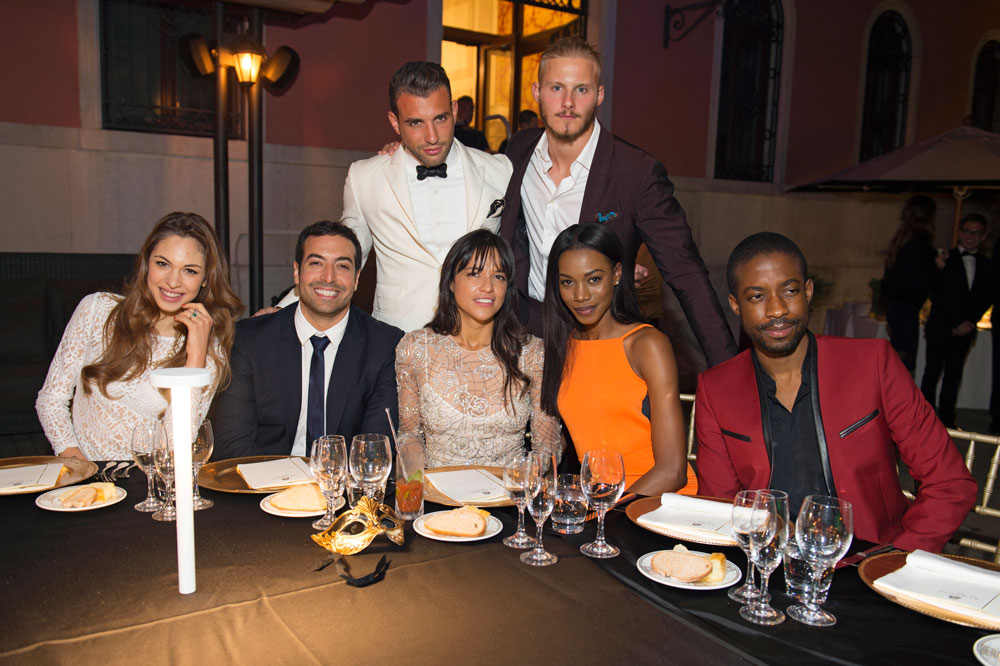 Superyachts are lined up just metres away. Much of the work is concerned with labour and workers and art as labour, as opposed to art as commodity, though in this festival Marx's work has itself become an aesthetic commodity. Enwezor has been telling media that if Marx were alive today, he would have wanted capitalism to continue.


The Danieli may have been the hot ticket last night, but everyone I meet today wants to go to the Belgian party, although no one seems to have an invitation or know where it is.
I see Daniel Malone, a New Zealand artist based in Warsaw, and we go to eat and drink with some Polish artists and curators. They complain about cultural funding cuts. I tell them how no one in New Zealand blinks an eye over pouring money down an America's Cup-shaped hole. They tell me their arts funding is being cut to buy more tanks to park near the Ukrainian border. In case, y'know, Putin. I shut up.
We crash an opening, drink Prosecco without looking at the art, and move on. At the next opening, I meet a young-at-heart lady of leisure — a lot of makeup, jewellery, hair dye — who's travelling solo and always on the hunt for a better party. She tells me she's hoping to end up on a superyacht tonight, and that the last time she did that she complimented the host on the live band, only to be told it was the Gypsy Kings.
I can't find the Poland party, but my roommate knows where the Belgian party is and I head off, walking through a deserted part of the city. Am I lost? Again? The bridges all look the same and after a few more turns I have no idea if I am walking north or east.
Soon, the thud of distant dance music rises from the night and then I come across a crowd of people holding empty plastic cups in the middle of the street. A group sits nearby, drinking grappa from a paper bag.
Inside, it's the polar opposite of the Danieli — a warehouse club with high ceilings and walls adorned with anti-fascist graffiti. A DJ plays vintage electro-music on high and people are dancing shoulder to shoulder. I see a couple of New Zealand artists who are studying at Städelschule, the Frankfurt art school that helped turn Denny from ambitious librarian to art star.
I line up for 20 minutes to get as many Campari spritzes as I can carry. The bar is run by a ragtag group of young Venetians haphazardly pouring random amounts of Campari, Prosecco and sparkling water into a jug and then tipping that over a line of plastic cups.
There are no canapes, no bellinis, no hand-shaking. No one is wearing a suit. Everyone not dancing stands in tight huddles yelling at each other. Bennewith, a New Zealander based in Amsterdam, tells me it's "very Belgian".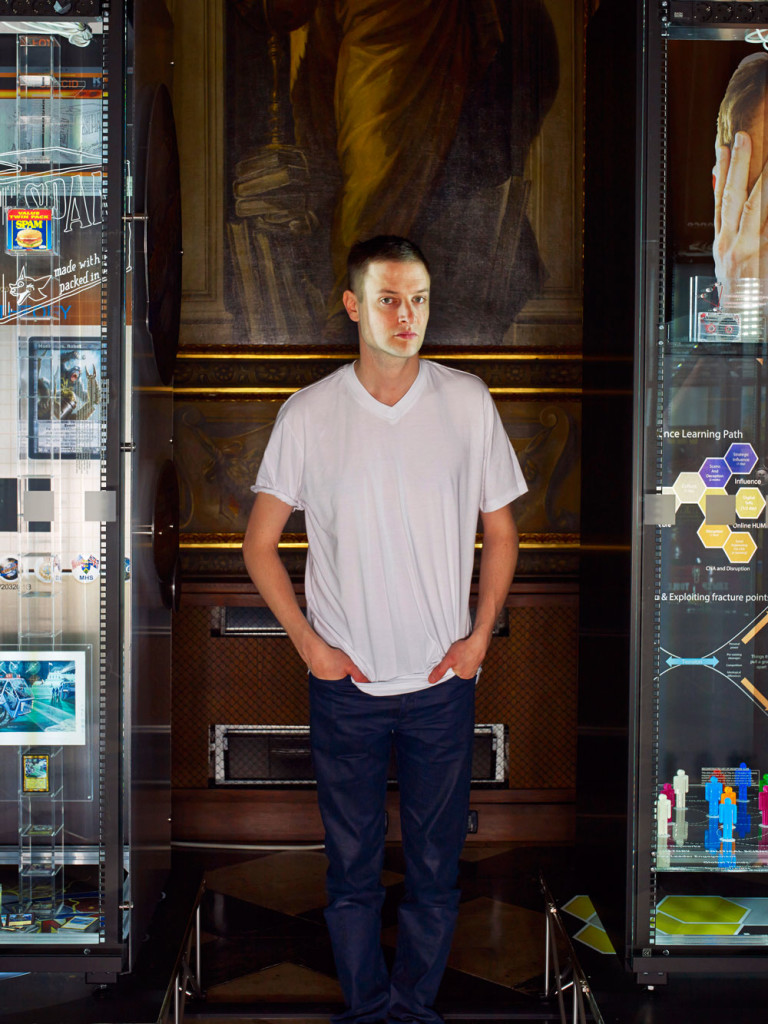 We go outside, to discover the party has become so popular the streets are tightly packed in three directions and you have to walk sideways, shoulder-first as if you're trying to get up front at a concert.
I leave with Bennewith and Alex Davidson, Secret Power's assistant curator. As we walk towards our respective accommodations, every second or third bridge has a stalled group, all checking their phones, trying to find their way home. We walk on confidently and cross a bridge where a stranger pipes up: "Are you guys lost?"
"No," we shrug.
"But you've passed me on this bridge twice now," he says.
We all check our phones.


The next morning I meet with Simon Denny to go out to the Marco Polo Airport. We travel by speedboat with a Bloomberg TV crew who are making a show about him as part of a forthcoming series about contemporary artists.
Denny tells Bloomberg what a "huge honour" it is to represent New Zealand, and that Venice is the "best audience you can hope for". His interview consistency is impressive, always on message, never straying far from his talking points. Not because he's bored or "inauthentic'" but because his work is so densely detailed and politically ambivalent that he doesn't want to risk an offhand comment disrupting its balance or betraying the exhibition's rigorous fact-checking.
His desire for directness and clarity extends to his voice. Talking to international media, he tweaks his New Zealand accent with the inflections of a BBC documentary host: an antipodean David Attenborough explaining his work as if it were an endangered animal.
To see the work without arriving by plane, we enter through the employees' security gate, handing over our passports and signing forms we don't understand. Denny had to complete a week-long security course in order to come and go with ease, and he's not allowed to let us out of his sight.
That night, frieze, Europe's most important art magazine, holds its Biennale party among Simon's work in the Marciana. It's my fourth party here and they're starting to blur. Denny's partner, Marta Fontolan, who grew up in Venice, is holding a group exhibition of young artists in her grandmother's home. There are lots of small, modest works, reminding me of the shows Denny put on in Auckland when he helped run a gallery after art school.
We sit in the cobblestone square outside the house, drinking cheap wine. His media appearances are over. His parties are over. His work here is done. In a couple of days he's going back to Berlin to finish his next show, then to London for Obrist.
We talk about success and how, once you have it, how hard it is to maintain it. His current New York show is The Innovator's Dilemma, inspired by Clayton Christensen's book of the same name. The premise is that companies succeed by innovating, but as they focus on their new customers they lose the drive to keep innovating. Eventually, they fall behind.
Denny knows it's as true in art as it is in business and technology.
The exhibition closed and the wine finished, everyone breaks into small groups, off to the Nordic party, the ArtReview party, the Anal House Meltdown party.
We get a couple of beers from a tiny bar and find some steps to sit on, our backs towards a canal, and with a few hours until my train leaves, drink quietly in the night.
Read Anthony Byrt's analysis of Simon Denny's Venice Biennale exhibition here.