Apr 27, 2018 Art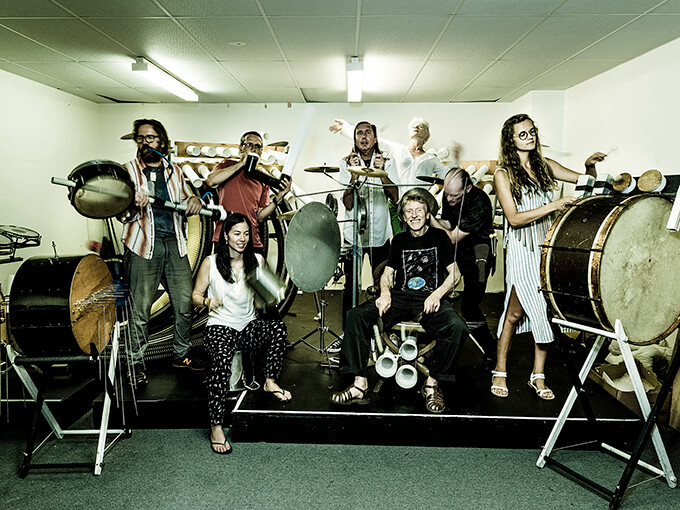 Home-made instrument group From Scratch is back from a hiatus with a new exhibition and performances. 
Phil Dadson, who seems to invent new instruments any time he has a few spare minutes, is in the middle of inventing a new instrument when I reach him on the phone. Unlike the zitherum, the nundrum, the gong tree and the sprong, today's creation does not yet have a name. "It's a little bit like a foghorn. Well, a fog-whistle. Pitched whistles which operate off foot-pumps. It lends itself to hocketed interplay between two or more players."
Hocketed interplay is when each player drops a note into the other players' pauses, so that an articulated line of continuous music bounces back and forth across a room, as if expert sportspeople were tossing several balls around.
Finding new ways for musicians to toss tunes around has been a large part of Dadson's creative life, in particular the musicians in New Zealand's internationally acclaimed home-made instrument group From Scratch, which he founded in 1974 and which is returning from a 15-year hiatus for a combined major exhibition and performance series, as part of the Auckland Arts Festival.
Dadson isn't sure he'll actually build working models of his foot-pump hocketing fog-whistle, which so far exists only as a prototype. "But then, of course, if you put it in your article I'm going to have to." If he does, it will join the zitherum and the nundrum and the gong tree and the sprong, and quite a few others, on interactive display at Te Uru Waitakere Contemporary Gallery in Titirangi. (The sprong, if you're wondering, consists of a number of spiral gong-form springs, all differently pitched, and fitted to a single resonant shell. And "interactive" means, as you might hope, that while the exhibition runs, the public will get to play some of the instruments — the strangest ones and the ones least likely to break. Children welcome, though supervision is requested.)
The exhibition is a long-time dream project of Te Uru's director, Andrew Clifford, who worked on the From Scratch archive at Auckland University while doing his master's degree in visual arts and theory at the Elam School of Fine Arts. Dadson: "Jonathan [Bielski], the arts festival director, went out to check the festival's contribution to Te Uru's exhibition of Brian Brake photos last year and kind of fell in love with the space, and asked Andrew what he might like to feature this year … and Andrew suggested a From Scratch survey show of some sort. Jonathan threw in the idea of doing a performance series in the gallery as well, and everything's taken off."
As well as instruments, the exhibition will feature several 1200mm-square photos (some of which were used as the group's album covers back in the 70s and 80s); the iconic geometric ground plans that the group chalked out before performances, as a visual reference for the instruments and the musical structure; a representative survey of photos tracking the history of From Scratch; large-scale drawings; performance posters; and text notes telling the story of the group.
The six concerts performed as part of the arts festival were broken down into two groups of three, each of which featured a different selection of invited collaborators, as well as the seven core members of From Scratch's current incarnation. The 90-minute performance incorporated new material, classic From Scratch numbers and collaborator contributions into an intricate sonic tapestry, with players and audience progressively moving through several different gallery rooms.
From Scratch: 546 Moons Exhibition, March 3-May 27, Te Uru Waitakere Contemporary Gallery.