Apr 15, 2019 Art
A retrospective of the work of Auckland art collective the Pacific Sisters is running at Auckland Art Gallery until mid-July. Jean Teng sat down and talked to Rosanna Raymond about the city's art scene, then and now.
This story initially appeared on OurAuckland and is shared with permission.
In the early '90s, Auckland art collective the Pacific Sisters contemporised and challenged pre-conceived notions of Pacific perspectives. Born out of dissatisfaction with the white faces and stories dominating Auckland's narrative, its fashion, dance, music, film and photography expressed complicated issues about being New Zealand-born, mixed-race and different and its collaborations spun out into shows on the streets that eventually broke into the mainstream and into white-walled galleries.
A major retrospective – first shown at Wellington's Te Papa in 2018 – has now found its way to Auckland Art Gallery, in the city where it all began. The exhibition weaves a visual story of Maori and Pacific creativity, identity and sisterhood and showcases work that smashed stereotypes.
OurAuckland: How does it feel, with the retrospective coming to Auckland?
Rosanna Raymond: It's really exciting for us … There are a lot of people here that were directly connected to the Pacific Sisters and actually saw us, were a part of us, bought something off us or danced and partied with us. So we feel like it's a homecoming. Homecoming queens.
What was the Auckland art scene like when you formed in the '90s?

You could count the number of [Pacific] artists on one hand. And they were mainly men – Fatu Feu'u, John Pule, Johnny Penisula. So when I first met Ani [O'Neill], it was through a friend of mine who told me about this amazing young artist who had this end-of-year show out of Elam. So I went to that. I always say it's like a love story; we all kind of fell in love with each other. The Pacific Sisters came as we were bouncing around the clubs and streets, and that's when the movement was happening too – Pacific theatre, Pacific art, the writers. So we were just a piece of the jigsaw puzzle, really.
What do you think the Pacific Sisters did for Auckland?

It's really hard to ask us, because we were really flabbergasted. Even when Nina [Tonga] said, 'I really want to curate this show,' we were looking at her going, 'Why?' It's funny, because we struggled through those times. We weren't accepted. We weren't accepted into the art world. But what a lot of the next generation have told us is they see us and all of our antics and go, 'Oh, wow. That's me.' But we definitely changed the cultural landscape as to what people thought of Pacific Island art and culture. We stood up to things we believed in in terms of the Tino rangatiratanga movement, the legalise marijuana movement, the queer movement.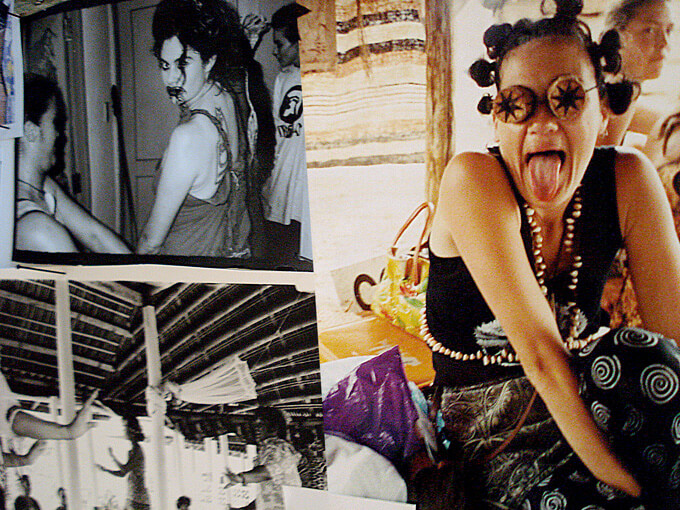 What do you think has changed since then?

There's just so much more. Back then, there would be four Pacific Island events in a year, now there's about four a week. And I see that our youth are just so much more confident. But then on the flipside, there are still a lot of the same issues that I see the young artists dealing with. They're still dealing with identity, being a New Zealand-born Pacific Islander. So all those things are still bubbling away.
How does it feel to see the artwork in a gallery?

A lot of those costumes are over 20 years old. When they are moving, you don't see the fact that these are really well-structured, beautifully made garments. So one of the beauties that I enjoy of seeing them in still life was the fact that you really could appreciate all the different fibres and textures. That's a real plus. It took us nearly a year to gather it all, because we all had bits. So it was like a real reunion – not just of us, but a lot of the garments. Somebody would be like, 'Oh! Oh I've got that bit.' 'Oh, I've got that!'
Which artists are doing cool things in Auckland right now?

Oh my God, I have so many that I love. It's like asking to choose a favourite child. I came back from London because I kept looking through social media and going, 'Wow, those guys are going off, and they're having way too much of a good time. I'm coming home. That's enough.' I got complete FOMO. A lot of my heroes I work with – Ani, Lisa [Reihana]. And then of course you've got the likes of the FAFSWAG collective, who are just next level.
Pacific Sisters: He Toa Taera | Fashion Activists runs from Sat 23 Feb – Sun 14 Jul
This story was first published on ?Our Auckland.
Follow Metro on Twitter, Facebook, Instagram and sign up to the weekly email