Mar 9, 2015 Art
Glasgow-based David Shrigley says he enjoys art the same way he did as a small boy. He's been in Auckland for much of February, aiming to produce 16 paintings in 16 days.
Above: David Shrigley with a maquette of his sculpture Really Good, which has been chosen to stand on Trafalgar Square's fourth plinth. The 10-metre tall statue will be placed in 2016. Belo right: A taxidermied Jack Russell from the Brain Activity exhibition by David Shrigley at the Hayward Gallery, London, 2012.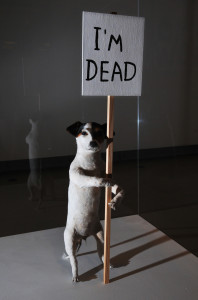 One of David Shrigley's best-known sculptures is a stuffed Jack Russell puppy, standing on its hind legs and holding a placard that reads "I'M DEAD". Shrigley has made other taxidermied furries who have suffered the same fate: kittens, for example, and West Yorkshire terriers. There's also a squirrel that, rather than a placard, cradles its decapitated head with quiet, heroic poise. Then there's the ostrich, which doesn't have a head at all — just a perfectly sealed stump at the end of its neck.
Shrigley makes drawings too, hundreds of them — simple text-and-image cartoons. He collects the best into books, with titles like Ants Have Sex in Your Beer, or To Make Meringue You Must Beat the Egg Whites Until They Look Like This, or Let's Wrestle. A lot of the drawings have also been turned into products: such as stationery, or gift cards, with messages like "Sorry I painted the word 'twat' on your garage door."
You get the picture. Shrigley's stripped-down absurdism has made him a publishing phenomenon. But increasingly, he is also being recognised as a major artist — a crucial figure in a Glasgow-based generation who have reclaimed British art from the London bluster and bling of Damien Hirst, Tracey Emin and the YBA era.
Shrigley has been in Auckland for much of February, making new work for an exhibition at Two Rooms gallery. His plan before he arrived was straightforward: he would produce 16 paintings in 16 days, all of which would be in the final show. There was just one issue: "I haven't made an oil painting since I was an art student in 1988," he admits. "And normally I chuck at least half of what I do away, sometimes 75 per cent. But this is the way I like to work; I like to set myself a project, and an exhibition is just the residue of that process."
Will Self once wrote that Shrigley's drawings look "as if a preternaturally intelligent child were rendering the attempts of a smart-aleck adult to draw like a kid". When I ask Shrigley what links the different aspects of his practice — the drawings, the sculptures, the paintings — his deadpan answer resonates with Self's circular take: "I suppose the main connection is that I make them," he says, laughing.
"The work is always infused with a certain sensibility I can't really escape. I make art with the same mindset I had when I was six. And I enjoy it in exactly the same way, even though I'm a middle-aged man now."
Lurking behind these childish pleasures, though, is a brilliant and distinctly grown-up understanding of the ways in which a personal existential crisis might speak to a larger crisis of culture. Take the animals declaring their own mortality, with alarming sentience and inner peace, for instance. Or a drawing of a man with a bow and arrow pointed upward toward a great, white nothingness, with the words "I hate balloons" floating just above his head.
Or his work for the 2013 Turner Prize, in which he made a badly proportioned, larger-than-life life model that pissed at regular intervals into a bucket. Visitors were invited to sit and make drawings of him but, because of his bizarre body, even the most accurate renderings looked terrible. This was simultaneously a really dumb joke and a sharp reference to the fact that, as is regularly pointed out (often by the artist himself), Shrigley isn't actually very good at drawing.
Next year, he'll complete the pres­tigious "Fourth Plinth" commission in Trafalgar Square. His proposal walks a similar line between art's transformational idealism and piss-taking; a giant bronze thumbs-up, titled Really Good.
"It's both optimistic and sarcastic," he explains. "In Britain, we're ironic about everything. So in a way, it can't possibly be sincere. But you also have to believe that your art makes the world a better place, albeit sarcastically. So maybe it's about the duality of being an artist, whereby you can make art that is satirical and critical and ironic and negative, and positive at the same time. But I'm still amazed they've let an idiot like me do it."
That same duality will be present in Shrigley's Auckland show. As with his giant life model, it's a poke at the reverence we have for traditional mediums like oil painting. And yet he's also completely genuine about giving painting a decent crack. "I'm quite excited about the project," he says. "Then again, I'm really hoping it doesn't look rubbish. As long as it's all right."
"So it doesn't have to be really good," I ask?
He laughs. "Don't expect it to be 'really good'. Just as long as it's not shite."
David Shrigley: Two Rooms, March 6-April 18. aucklandfestival.co.nz