Jul 9, 2019 Art
Amanda Jane Robinson visited the Carried Away: Bags Unpacked exhibition at Auckland Museum. Here she considers the bags we use – and the baggage we carry.
I'm trying on the colour orange. In the past six months I've bought an orange merino wool sweater, coral-toned pants, and a pair of peach mules. I'm painting my nails a colour called sunset. My texts are dotted with orange heart emojis.
Pantone named Living Coral their 'colour of 2019'. "In reaction to the onslaught of digital technology and social media increasingly embedding into daily life, we are seeking authentic and immersive experiences that enable connection and intimacy. Sociable and spirited, the engaging nature of Living Coral welcomes and encourages lighthearted activity." In February, SSENSE named Burnout Orange "the color of alert in excess, of the contemporary "burnout" epidemic, the physical side-effect of a tech-mediated life. A hyperactive, hustling orange." Early last year I read this tweet by writer Larissa Pham: "I picked my favorite color (pink) in my early twenties to provide myself with a sense of stability and consistency". I haven't stopped thinking about it since. I remember loving orange as a kid, and then hating it. My renewed interest in the colour can be traced to last December, when my boyfriend bought me an orange handbag. A bag from a man is nothing new, but it was new for me. A practical kind of romance. We were both sick of me fumbling around the bottom of my tote for my keys, or my wallet, or my tube of Lucas Papaw. He detests my tote bags, except when he needs somewhere to put his headphones. When I visit Auckland Museum to see their exhibition about bags, I want to bring this orange handbag, but it doesn't fit my laptop or the book I'm reading — Ruby Porter's Attraction, about a road trip and baggage — so I bring a tote instead.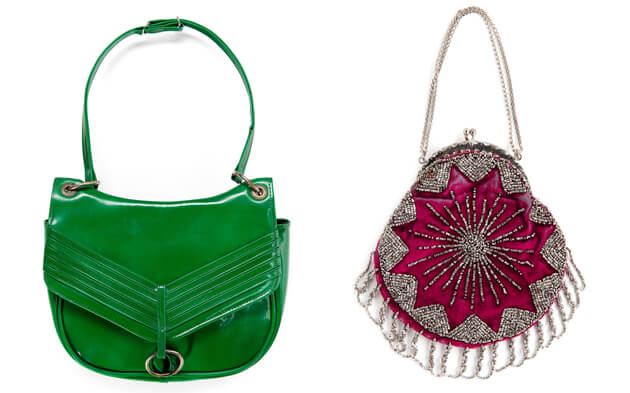 Carried Away: Bags Unpacked catalogues 155 bags from Auckland Museum's collection. The bags in the exhibition are grouped not by time or geography, but by base material — animal, plant, mineral, and synthetic. Walking around, I am overcome by the scale of history imparted through these everyday objects. A brass kashkul, or beggar's bowl, used by wandering dervishes to collect donations across Persia in the early 20th century. A red cotton Chinese envelope bag. An inge from Borneo, a basket used to carry rice seed during planting season. "In Western tradition bags are distinguished from baskets by their flexible construction," an essay by Auckland Museum Applied Arts and Design curator Grace Lai notes. "Yet the kete, a basket, fits the categorisation of a bag with its soft form that takes the shape of its contents." Many kete are on display as part of the exhibition, including a kete mekameka by artist Maureen Lander and a kete whakairo by jeweller Matthew McIntyre Wilson. "Arising from the history of raranga (weaving), the kete is not just a functional object. It exists within a wider whakapapa of Maori cultural values and spiritual beliefs that makes it, both process and product, taonga." I think of a kete gifted to me by a friend, full of feijoas. How generous, romantic. I think of Drake collecting Hermes Birkin bags to give to his future wife and am repulsed.
"The bag reveals as much as it conceals", the Carried Away exhibition tagline reads. Remember in the mid-2000s, pre-Instagram, when the voyeuristic 'what's in your bag' was a staple celebrity interview question? There is an intimacy in knowing what someone carries with them. As part of the museum's exhibition, an interactive station lets you scan an item from your bag to be placed inside a giant virtual handbag on a screen on the wall. A peek into the everyday objects carried by strangers, and the choice to reveal.
Many of the bags on display are smaller than pockets. The purse made in 1850 from the foot of an albatross, reminiscent of Yvonne Todd's Wet Sock, was said to have held tobacco. Then there's the chatelaine — translated: lady of the castle — which curator Grace Lai describes as "a set of short chains worn suspended on the waist from which everyday and personal items — scissors, notebook, keys, miniature portraits — dangle." Lai compares it to a Swiss Army knife, but I am reminded of the first generation iPhone and it's rudimentary apps; a notepad, a two-megapixel camera, the virtual lighter app. Opening one of the chatelaine's silver compartments, I imagine, would produce that same metallic clink. One chatelaine from China features chains adorned with tools specific to opium smoking. Others are decorated with gilt or felt or jade. By the turn of the twentieth century, the bags were well on trend amongst New Zealand's settler women, shipped from England and stocked at Auckland department stores Milne & Choyce and Smith & Caughey's between 1903 and 1910. The same Smith & Caughey's which currently stocks one of my favourite New Zealand-designed bags, Karen Walker's Mae Crossbody, in what she calls mint, I call lime milkshake, and writer Emily Yoshida calls Bummer Green. It's the same shade as the bag Beyonce took to the Golden State Warriors game that fateful night Nicole Curran leaned in front of her to talk to Jay-Z, and ended up receiving death threats. An internet moment of similar scale to the meme-ification of the Jacquemus Le Chiquito micro bag. Doreen St. Felix wrote the lack of space "forces you to answer a question your vile, enabling tote lets you keep avoiding: what are the only objects in life you need?" Carried Away curator Grace Lai concurs: "If a bag is too big I'll end up putting way too much in there." In the year of Marie Kondo, this trend tracks. But the micro bag, on most, looks undignified, juvenile. 2019's answer to 2016's mini backpack. Adults dressed as children. I think of Cher Horowitz's Clueless cross-body 'celly bag', just big enough for a flip-phone, more stylish than the knitted phone socks of the early 2000s.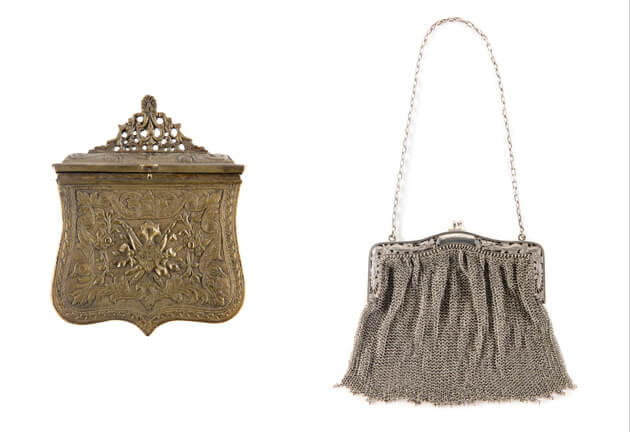 At the museum, a 1930s golden Glomesh purse made by the Evans Case Company in Massachusetts. No bigger than my palm, but inside, separate compartments for powder and blush, and just enough space for a night out's essentials: perfume, cigarettes, a comb, and change for the cloakroom. A flapper's version of a 19th-century reticule, marketed to the independent woman. The Evans Case Company, which made this purse, started out in 1807 making jewellery, but really took off in the production of metal buttons for soldier's uniforms during the War of 1812. When the button market became saturated, Evans Case Company directed their business towards vanity compact cases, cigarette cases, lighters, and dog tag chains for soldiers. The company won further defence contracts during World War Two, where they are thought to have been one of the hundreds of businesses to temporarily switch their manufacturing from domestic consumer goods to materials for the war effort.
After the end of the Second World War, import restrictions led to an upsurge in the recognition of local fashion. New Zealand bag designers such as Sybil and Josephine Mulvany and Vita Cochran became major names, prioritising domestic European techniques such as hand-weaving and embroidery. Over time, local bag production began to involve leather craft, leading to modern-day successful New Zealand-based bag brands such as Georgia Jay and Yu Mei. In a 2017 interview with Metro, Yu Mei designer Jessie Wong noted the brand's use of deer nappa, a material unique to New Zealand. When asked why she decided to work with bags, Ms Wong explained "bags are unlike other areas of fashion in the sense that you usually use the same bag daily – especially in New Zealand. They really do play a role in how you experience every day."
Throughout my entire childhood, I only ever remember my mother owning three, maybe four handbags. She wouldn't replace one until it was falling apart, and sometimes even then. She didn't see the point in splurging for a designer brand — durability was her main concern. Every so often she'd clean out the detritus that had collected in the folds. When we were about to leave my father — and we were always about to leave — she was nervous he'd check her handbag, so she'd stash receipts and real estate agent business cards between school permission notes and grocery lists, right where he'd never look. The word purse comes from the Greek bursa, meaning hide. Hide as in leather, but it could just as well mean covert. To purse one's lips is all it takes to keep a secret. "The bag reveals as much as it conceals".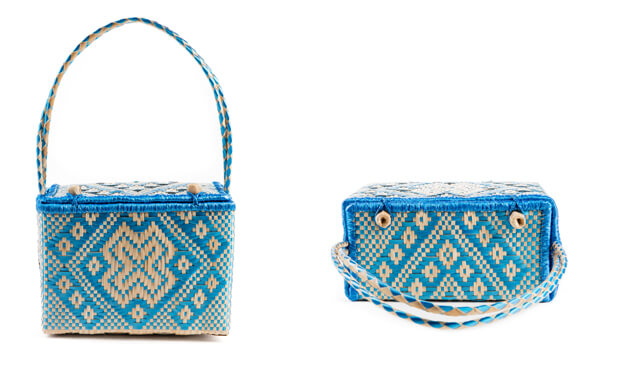 Bags, like anything beautiful, are often connected to violence. When I think of the word bag I see a gruff crime scene investigator coldly instructing a gloved medical examiner to "bag it", "it" being evidence at best, a body at worst. The CSI: Miami episode that most traumatised me as a child — a blonde sliding down the chute onto a luggage carousel, covered in blood. It haunts me every time I go through baggage claim. For years, everytime they'd talk about "accessory to murder" I'd picture a handbag as a weapon. In Mitski's 2016 music video for Happy, a woman suspects her husband is cheating. He gifts her a red purse and she is satiated for a moment. But when she opens the lining, she finds a blonde curl and a note to another woman, who she soon discovers her husband seduced, then murdered. "The bag reveals as much as it conceals". Behind the Museum glass, a brass cartouche from India forged to carry a soldier's bullets. A beaded pouch crafted by a Turkish prisoner in Egypt in 1918. The bag as an escape plan. Packing one's bags and looking to get out. Bruce Springsteen is easily invoked. Marnie Edgar, Hitchcock's troubled thief of a woman with her handbag full of cash, securing the bag. A thousand bank robbery movies worth of duffle bags the same shape as the Country Road I coveted all through high school. Then there's all the death; leather, fur, ivory, wool, feathers, cowrie shells, albatross foot, crocodile skin, snake skin, pig skin, bone, bear gut. Versace, heavily featured in this exhibition, was one of the companies manufacturing goods in the Rana Plaza Dhaka garment factory at the time of its collapse in 2013, killing 1134 and injuring 2500.
The Warehouse was among the first New Zealand companies to charge for plastic bags in 2009. A year later, I started working at The Warehouse in my local Westfield mall. I was fourteen and saving for a camera. My favourite shifts were the ones leading up to Mother's Day and Christmas, when they'd fashion a temporary perfume counter at the front of the store and I'd spritz testers onto strips of white card. Once, when I told a man spending hundreds of dollars that the plastic bags cost ten cents, he yelled until one of the managers said to give it to him for free. Last May, The Warehouse switched from using plastic bags to compostable ones and upped the price to fifteen cents. I wonder where that man is now. In January, a Pak 'n' Save plastic bag, usually ten cents, sold on TradeMe for $52. The auction came after Foodstuffs announced it would discontinue the bags ahead of the Government imposed single-use plastic bag ban (which went into effect last week). Many stores are now returning to paper bags of the past. Those featured in Carried Away include a pre-1970s New World brown grocery bag, paper bags from Zambesi, Scotties, Kate Sylvester, WORLD and other local designers. How can we think about bags, or fashion, or beauty at a time like this?
Sara Cwynar's video artwork, Soft Film, opens with a shot of a suede red clutch and a voiceover: "The soft texture gets me here". Gets me. An understanding. What makes one bag desirable over another? Grace Lai tells me she looks for something sleek which will hold her laptop. "Shoulder bags are uncomfortable because I carry so much." A balance of practicality and beauty is encouraged. Arabelle Sicardi wrote of beauty: "It's one of the most obvious evidences we have of femininity and identity creation in history." I think of all these bags and everyone who crafted them, and everyone who carried them. Everyone who carefully paired them with an outfit or picked them at random to carry food home for their families or weaved them for weeks at a time. I try to select a favourite from the exhibition. Issey Miyake's verdant Pleats Please polyester dream is my first instinct. Then a 1950s clutch made in Karachi with cream-coloured rayon and white glass beads. I consider the kete made from kiwi feathers and velvet and the silk purse from 1750, the oldest in the Museum's collection, embroidered with gold thread. But I know it when I see it. At the top of a display cabinet, with no brand or artist name. Simply: "Made in Hong Kong, from plastic beads and cotton." It's the most magnificent orange.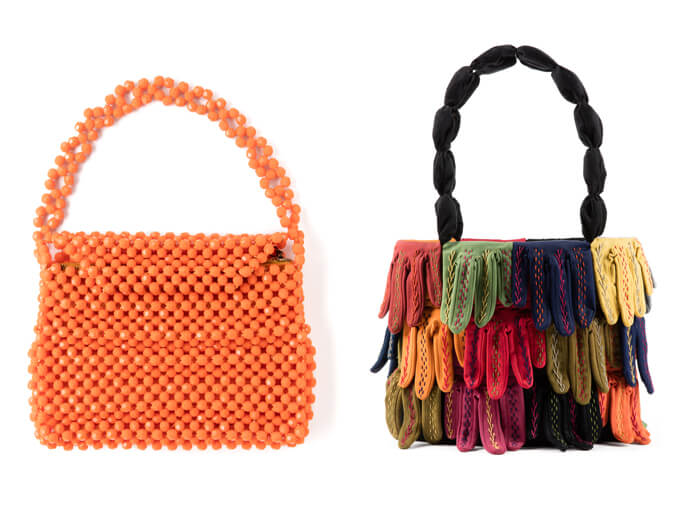 Carried Away: Bags Unpacked is running until December 1 in the Auckland Museum's Special Exhibition Hall. Free with Museum entry.