Feb 18, 2017 Art
With a misogynist now in the White House, Metro sits down with one of the United States' most influential artists, Cindy Sherman, to talk Trump, fashion and what "bad feminism" looks like.
In February 2016, at a campaign event for Hillary Clinton, former Secretary of State Madeleine Albright declared that "there's a special place in hell for women who don't help each other". Clinton, standing next to her, roared with laughter and applauded. And the rest, as they say, is history.
As election night unravelled, thousands of women took up Albright's rallying cry on social media, flinging recriminations and shellshocked gags at their sisters who had voted for Trump, the self-confessed "pussy-grabber". One tweeter, Ashley Lynch, summed up the mood perfectly: "52% of white women voted for Trump," she wrote. "Listen, ladies, muh bitches. Come close. You fucked up good."
This was an election about misogyny, and, as Lynch's tweet points to, was arguably won and lost with competing images of white American women. On one side, women like Clinton and Elizabeth Warren, easily portrayed by the extreme right as spell-casting, post-menopausal, dangerously liberal witches. And on the other, proto-Aryan blondes of a not-so-certain vintage like Ivanka Trump, Ann Coulter and Kellyanne Conway: a "type" normalised by everything from CNN's panels of political pundits to the Botoxed nightmares of Bravo TV. In the battle between practical pantsuits and skintight designer dresses, the Gucci girls won.
Cindy Sherman — artist, New Yorker, self-confessed fashion junkie — has long been accused of being a bad feminist, too. "There's definitely, for me, a real ambivalence about what you're expected to do to look like a woman, to act like a woman," she tells me. "Sometimes you feel like you're pressured to behave a certain way or look a certain way. Certainly when I was growing up, I felt that. And yet there were also aspects to some of those things that were guilty pleasures, because I actually did like dressing up and the makeup."
Now 62, Sherman has probably done more than any other living artist to examine the faultlines in American femininity. Over almost 40 years, she has photographed herself as hundreds of different women: Hollywood starlets, fashion victims, breast-baring Renaissance saints, high-society vamps and, most recently, Weimar-era silver-screen heroines — a cast of characters that has made her one of the most influential artists in the world.
We meet on the eve of her New Zealand exhibition, which Aucklanders must travel to see at Wellington's City Gallery. It's not a complete retrospective, but a big survey covering the period from 2000 to now. It's a timeframe loosely bracketed by the two most traumatic events in recent US history: 9/11, and Trump's election. Sherman was particularly affected by the terrorist attacks at the time.
"I remember [wondering] what the point of making art was after that," she says. "I just felt, like, what do I have to say? Especially because in a lot of my work there's irony and humour, and that just didn't seem right any more. So when I did finally start working, I wanted to make uplifting characters, like really happy, proud characters."
But for every seemingly upbeat figure in her work, there's a counter-balancing darkness. In her early "Untitled Film Stills", Sherman drew our attention to the way cinematic stereo-types — the housewife, the temptress, the suicidal hysteric — form a feedback loop with the culture from which they spring, shaping perceptions of the roles women perform in the "real" world. More recently, though, she's examined the various ways women — particularly of Sherman's age — construct themselves. As Ellie Buttrose, one of the exhibition's curators, writes: "By using herself as a prop, Sherman presents her audiences with a dilemma — can you be a critical observer of women and still be a feminist?"
It's a tightrope act, captured brilliantly in her "Balenciaga" series from 2007-8. Before Instagram turned us all into grinning idiots, Sherman constructed shots of deliriously happy, expensively clad women at fashion and society parties, primping and posing for the camera — try-hards desperate to make sure the snappers spot them, so they in turn can wake up to see their faces in the social pages. The "Balenciaga" images also often include several figures — nightmarish doublings and quadruplings that throw the photographs' timelines out of whack, so that we don't know whether we're seeing a group of fashion-tragic clones or witnessing a tumbling, multiple-framed dream sequence.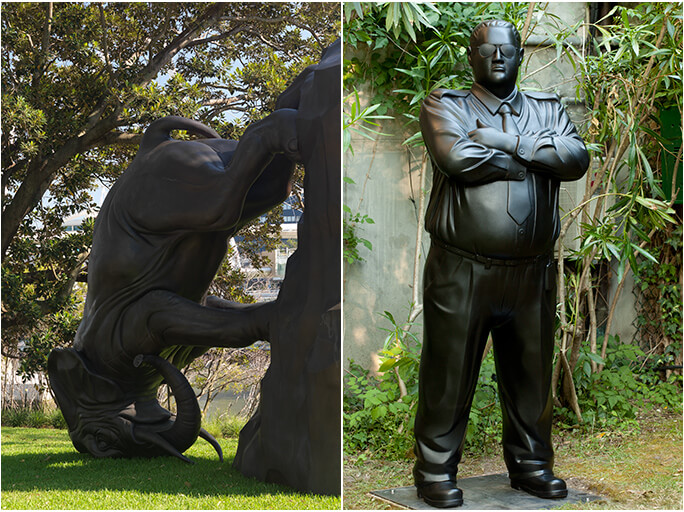 Sherman's slightly later "Society Portraits" are similarly ghoulish — a series that "grew out of the idea of wealthy people paying to have gigantic portraits in their living rooms of themselves". In the photos, Sherman adopts a more matronly, authoritarian attitude. In one, a woman with a meticulous silver bob perches on the edge of her sofa in a maroon gown, a toy Schnauzer on her lap. In another, a woman with dark, dyed hair, fine lines and pinched lips stares imperiously over her shoulder, her massive pearl earring matched by the threads around her neck.
It's easy to assume Sherman is taking the piss. "I've been criticised for making fun of these types of people," she says. "But I love them, too, and I see bits of myself in them… When I'm dressed as that character and looking in the mirror, trying to channel the character, I like that person. I try to believe that they really are proud of who they are and really are happy to be posing for whoever's taking the picture… I'm not trying to be tongue-in-cheek and look ridiculous."
This is the important point that the City Gallery exhibition illustrates so well. While it's widely accepted that Sherman is one of photography's greats, the show also makes clear that she's an incredible character actor. Her comic range in particular, shown off through her control of facial expressions, is remarkable. She becomes, for the duration of each and every shoot, a completely different person.
This is also why she still works alone, constructing her characters and scenarios without assistants. "I think if I had somebody around I'd be self-conscious," she explains. "I can lose myself more in the character when I'm by myself." This was a major reason for her shift to digital photography, too. Previously, she'd spend hours getting ready, take the shot, then have to take off all the make-up, go to the development lab, and wait several hours to find out whether it was even in focus, let alone what she was after. Now, she's able to work more quickly.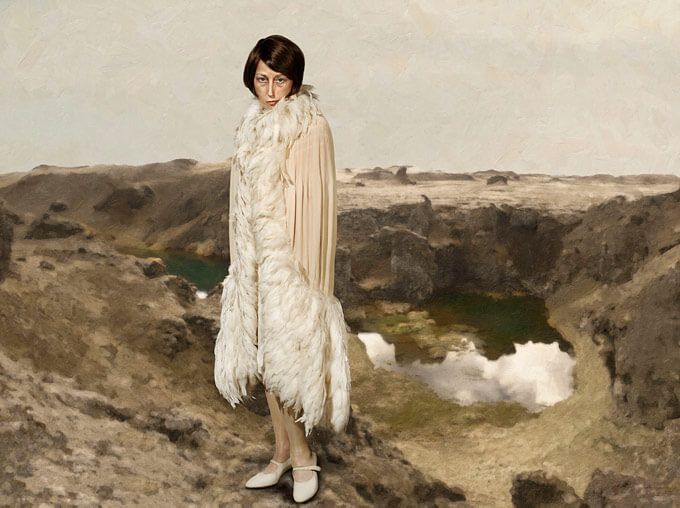 It isn't entirely surprising there's a homespun aspect to Sherman's process, given that the characters she elevates are, very often, the amateur enthusiasts and semi-professionals of this world. In her "Head Shots", from around 2000, for example, she poses like a series of wannabe actors getting their portfolios together: a woman in a designer dress with swept-back Hillary-hair, wearing pearl earrings and shining body glitter; a butch hayseed with blond plaits and a gingham shirt; a slightly past-it emo with red hair, black lipstick and a nose-ring through her septum.
But her most important amateurs by far, and perhaps the most important works in the past 15 years of her practice, are the "Clowns," from 2003-4: troubling and troubled figures who, en masse, form a kind of Bush-era American grotesque. It's here that Sherman's make-up turns into thick, leering face-paint and her prosthetic transformations go from subtle to nuclear: bulbous red noses like cysts ready for popping; bucked or rotting teeth; cheeks like lumps of clay. In almost all of them, the clowns horse around against bad-acid backdrops of Willy Wonka colour. They're the Photoshopped stuff of nightmares.
The series started when Sherman found an old pair of pyjamas at a fleamarket that someone had turned into a clown suit — a discovery that sent her down an online rabbit-hole of amateur clownery. "There were so many homemade clowns out there," she says. "There were also super-professionals, too, but I was more interested in the people who really seemed like they were doing it for fun, for a kids' party once a month or something like that. They also looked the funkiest. There'd be pictures of some really sweaty clown, and you could tell he was performing on a hot day in Texas or somewhere like that. So there was this grossness about them that seemed even more scary."
Sherman's clowns are where she herself disappears most completely. "As I was working on [the series], I started to think of clowns as a whole race, a whole type of people… The most challenging thing was trying to make [each] clown look like somebody else underneath the make-up. I didn't want it to look like me."
But the clowns are also, I think, where Sherman reveals her truest interior self — the jester, the trickster, the chameleon. In person, she has a similarly unlocatable presence. She's small and magnificently, understatedly dressed. "I definitely am a fashion addict," she says, "in terms of shopping, for sure. I love beautiful clothes and beautifully made things. But the way it's all packaged and advertised and sold to people is a different story." 
When she answers my questions, she's neither evasive nor carefully rehearsed; she can be both extraordinarily ambiguous and incredibly precise. But the presence I can pin down is in her eyes: ashy, pale blue, with a darker ring around them. This isn't me reaching for a "windows to the soul" explanation of her work, but rather, trying to describe the disconcerting recognition of sitting with the "real" Sherman — because I've seen the eyes hundreds of times before.
In the exhibition's catalogue, Miranda Wallace describes Sherman's love affair with the fashion industry as a form of Stockholm Syndrome — that at a certain point, she started to identify with, and love, her captors. Looking through the exhibition, I can't help thinking the same is true every time Sherman takes on a new role. At the heart of her recent work is an artist closely observing the worlds of women, ingesting different archetypes and then bringing them back up, still fully formed but somehow now terrifying and absurd, altered forever by the time spent inside Sherman's psyche. But those eyes are always there, trapped inside every mask.
The exhibition has already been shown in Brisbane, but there is one unique aspect to the Wellington iteration: a small room upstairs, which doesn't actually include any of Sherman's own photographs. Instead, it contains her collection of images from "Casa Susanna", a fifties-era retreat in the Catskills for straight cross-dressers. Just like her aspiring actors and clowns, they're part-timers — men, often married, who just want a safe space to dress up and feel like their true selves.
"It's this artifice that totally addresses my [own] work," Sherman explains, when I ask her why she's so fascinated with them. "In some of the group shots, you can see that there's one or two real women, that look like women, but they don't look like women, the way everybody else is posing and sitting" — Sherman strikes a camp pose — "and looking fabulous. And then there'd be some [real] woman sitting there, just like…" — she slumps in her chair looking unbelievably bored, and laughs.
Many of Sherman's harshest critics miss this complicated empathy. She's not in this game just to make fun of women, or men dressed up as women, or even, for that matter, women dressed as the women they think the world wants them to be. But she does make their failings and flaws visible, with a kind of humane brutality.
Sherman's dark humour is also going to be severely tested when she returns home. "The misogyny is more rampant in the United States than we ever realised," she says, sadly. "Sexism, racism, everything. It's definitely going to affect everyone's work." In the age of Trump, it could well be that Sherman's ambiguously feminist form of tough love is going to be more important than ever.
Cindy Sherman, City Gallery Wellington, through to March 19.
This article was first published in the January- February 2017 issue of Metro.
Follow Metro on Twitter, Facebook, Instagram and sign up to the weekly e-mail