Jun 16, 2015 Art
There's a treasure trove beyond the shock of the scabrous at Hobart's MONA gallery.
"We gave it a sandwich at 10," the gallery assistant tells me, "so it's due at two o'clock." Then she cracks up. "Although you might want to get here at a few minutes to. Just in case it's a bit, you know, early."
At 1.55, I head back to the gallery. She's clearly had the same conversation all day, because the room is full. The smell is incredible; most of us cover our noses and mouths. In the end, it's about three minutes past that we get what we came for. We watch as the only artwork in the space, Wim Delvoye's Cloaca Professional, takes a dump. A bona-fide human crap. As it plops into a petri dish, we let out a collective groan, before two women fall about in hysterics.
Delvoye's poo machine, designed with scientists to recreate the human gastro-intestinal system, is one of the star attractions at MONA — "The Museum of Old and New Art" in Hobart. Everywhere you go in MONA, you're aware of your own body — its urges, its absurdities, its nagging need to be overwhelmed and disoriented.
There are plenty of puerile headline-grabbers: as well as Delvoye's work, there's a massive installation of casts of vaginas, and a toilet that uses mirrors to show you your own anus. But beyond the fart jokes and porn is a magnificent, complex collection. World-class ancient Egyptian artefacts. Beautiful examples of Australian modernism, especially by Sidney Nolan. And gigantic pieces from some of the heroes of contemporary art, including Jannis Kounellis, Anselm Kiefer and James Turrell.
It's a grown-up wonderland, made in the image of its founder, David Walsh. Walsh is a professional gambler — a key member of a software-based betting syndicate that routinely beats horse- and dog-racing odds around the world. No one's quite sure how much he's worth, but it's a lot. Or at least it was, until he spent $A75 million building his museum. His art collection, which provides MONA with its base material, has an estimated value of around $A100 million.
He also lives there, with his wife and kids. It's easy to spot when they're in. Walsh's carpark is the one labelled "GOD." Next to it, "GOD'S MISTRESS."
But MONA is more than Walsh's personal ego-trip. Because when it comes to how we experience contemporary art, it's changing everything.
From the second you walk in, MONA flips every bit of received museum logic. The entrance, overlooking the Derwent River, is pretty low-key. But that's because, rather than building up, Walsh and his architect Nonda Katsalidis dug down; MONA is literally carved into the sandstone cliff.
Below ground are 6000 sq m of gallery space, a library and a cinema, all linked by massive steel stairways so complicated you half-expect to see David Bowie walking upside-down along them. When you finally reach the bottom level, there's an excellent bar where a crappy gift shop should be, serving wine grown on the property, beer from their microbrewery, and top-shelf Tasmanian spirits.
(Responsible) drinking is encouraged; so is self-directed discovery. When you arrive, you're handed an iPod with MONA's "O" app loaded on it. "O" uses locating technology so that as you move through the building, you can access information about the works closest to you.
It gives you all the basic stuff — artist, title, date. Or, you can find out what Walsh himself thinks about it. There's also an "Art Wank" button, where you can read something by someone like me. You can then choose whether you "Love" or "Hate" the work: information that's aggregated and sent to the curatorial team at the end of every day.
Then there are the temporary exhibitions. When I visited, there was a huge show of sculptures by Matthew Barney, widely regarded as one of the most important artists on the planet. Barney had incorporated Walsh's precious Egyptian pieces into his installation — something he could only achieve because of the owner's passion for his work. And, most importantly, it was packed with people — everyone from small-batch hipsters to cruise- ship grandpas, all glued to their iPods, figuring out what exactly Barney was trying to say to them.
It was a magnificent exhibition. I asked one of MONA's curators who could possibly follow Barney. He smiled. Apparently you follow him with Marina Abramovic.
Barney and Abramovic. Not in Sydney or Melbourne, but in Hobart — a city roughly one-seventh the size of Auckland.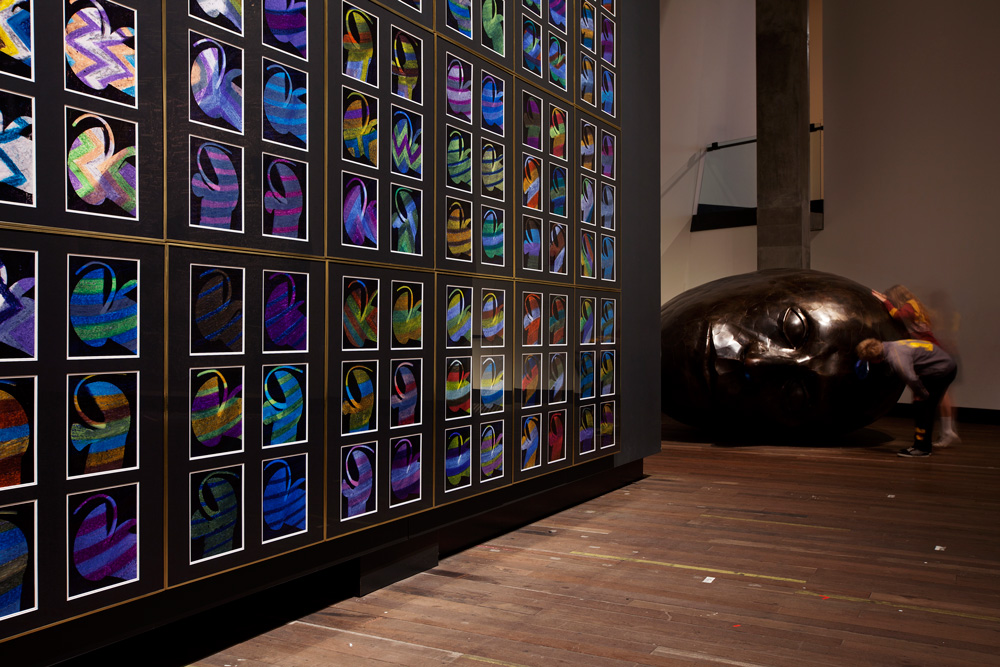 Of course, you need serious money to do this. MONA runs at a substantial loss, which Walsh underwrites. But that's set to change as it turns into one of Australasia's major cultural brands and luxury destinations; as well as the museum, the winery and the brewery, there are excellent restaurants, music and food festivals throughout the year, and $700-a-night apartments on site. There are also plans for a big hotel and a high roller's casino.
It's become the best thing about a trip to Tasmania. And the numbers, already, are impressive. Almost 1.5 million people have visited since it opened in 2011. It employs around 300 people full-time.
The museum estimates that, for the 2013-14 financial year, its overall contribution to the Tasmanian economy was around $A95 million.
The economic case alone proves that Auckland could do with something similar. But there's no point asking the council: they don't have the money or the appetite for controversy (just imagine the ratepayer reaction to 77 porcelain vulvas or a machine that takes an afternoon shit in the gallery). And anyway, the real opportunity to build a standalone contemporary art museum was during the Auckland Art Gallery's renovation.
That this didn't happen is a tragedy. So now someone else is going to have to do it. We have people with Walsh-level money. A lot of them collect art. The question is whether any of them have Walsh-level vision.
There are already a couple of halfway gestures: the Gibbs Farm, for example, which is genuinely world-class and (occasionally) open to the public. And the Chartwell Collection gives the AAG a much-appreciated contemporary boost.
But they aren't enough anymore. One visit to MONA was enough to confirm for me that, in Auckland, we're playing for peanuts. If we want to do more than bluff about being a great town for contemporary art, someone needs to take a massive punt. I'll be first in the ticket line when they do.
First published in the May 2015 issue of Metro.